As London Meddles, Anger Rises...And A High Tech Haven Is Hatched
At first glance, Bermuda bears an uncanny resemblance to Britain. Locals drive on the left and take afternoon tea, complete with scones and clotted cream. The thwock! of cricket bat meeting ball is frequently heard. But cab drivers tell you about their latest trip to New York, a reminder that America is a two-hour flight away, versus seven to London, and provides most of the island's investment, tourists, and imports.
So Bermuda seems a paradise poised between two worlds--but that happy balance may now be under threat. This fall, London will publish a White Paper whose contents were flagged by Foreign Secretary Robin Cook back in February. The expected proposals have Bermudians wondering why the mother country is treating its largest remaining colony, or Dependent Territory, like a wayward stepchild. The most worrisome, sparked by European Union calls to cut tax evasion and curb the flow of dirty money, would impose tighter rules on the financial-services industry, which accounts for about 60% of gross domestic product. "We must stick up for ourselves," says one outraged businessman.
What he and others resent is that the White Paper will apparently lump Bermuda, which has a squeaky-clean reputation, together with other territories such as the Cayman Islands and Gibraltar, known as havens for funny money. The territories may be obliged to follow London's line if they want to retain their status. And what Bermudians fear is that stricter laws will drive away business, especially U.S. companies. "Britain seems to want an invasive system," says Premier Pamela Gordon. "That is not our style."
A U.S. exodus would damage an economy that has produced an enviable way of life. Per capita GDP for Bermuda's 65,000 inhabitants is $38,000, which, as Finance Minister Grant Gibbons says, "puts us way up there." Islanders pay no taxes on income or capital gains. GDP will grow by 3% to 4% in 1998, after averaging 4% since 1994.
Bermuda is also concerned about the White Paper's stance on citizenship. Many older islanders are keen to become full-fledged British citizens again, a status they lost in 1981 under the Nationality Law, which took away their right of British residency. But they're not eager to grant mutuality, which would give Britain's 55 million citizens right of abode in Bermuda. "Right now, we're citizens of nowhere," says Gordon.
LEFT-LEANING. The debate with Britain is roiling local politics, too. Elections must be held by April, and polls suggest the Popular Labour Party, which has never held power, may win. Analysts say a leftish PLP government would distance itself from London even more than Gordon's centrist United Bermuda Party has and that a referendum on independence may not be far away. The last one was held in 1995, with 75% voting to retain ties, but sentiment is shifting, especially among the young. "Bermuda's independence is inevitable," says David Mutch, a partner at Deloitte & Touche in Hamilton. "It's just a matter of when." And if the break comes over tax issues, it won't be the first time. Ask America.
Bermuda may be one of the least likely nations to enjoy a post-cold-war dividend, but that's exactly what it got when the U.S. closed its Navy base in 1995. The base covered about 525 hectares, or nearly 10% of Bermuda's land mass--which, given real estate prices, amounts to a handsome windfall indeed.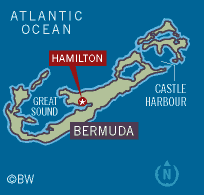 "We've got a number of projects under way already" on the former base, says Finance Minister Gibbons. In keeping with the island's desire for "quality" tourism, much of the area has been targeted for an upscale, environmentally friendly development by Stanley Selengut, an American who has similar projects in Hawaii and the U.S. Virgin Islands. A golf course, new hotels, and a residential area will take up further acreage.
But Bermuda is also hoping its dividend will help it develop a new economic pillar: high tech. It has issued a policy document outlining the regulatory framework, establishing an industrial park, and offering tax incentives. TeleBermuda International, a Bermuda-based partnership, is setting up a fiber-optic cable service connecting the island to the U.S., and Gibbons says "we've had a lot of interest" from others. So it seems that finance, tourism, and high tech could soon constitute a new Bermuda triangle.