All Set For A Hot Blast At Usx
by
"Investors must keep liquid to stay in the game," says Vince Carino, who until recently did just that. In late July, Carino, president of Greenhaven Capital in Palo Alto, Calif., switched to the defensive by upping his cash position from 5% to 50%. In early
October, he started buying again, picking companies that he felt had been severely punished by the market. One of his top choices: USX-U.S. Steel Group (X), which has been in the doghouse all year.
From 42 in late April, the stock slumped to 20 in September, before inching up to 23 on Oct. 20. Carino says USX is due for a snapback. The catalyst, he says, is the dollar's recent weakness against the yen. USX's products, he says, will now have a chance to compete with the low-priced steel produced by the Japanese, because of the less expensive dollar.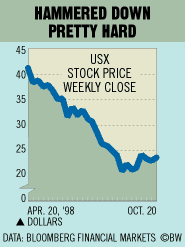 "USX is among the stocks we're betting on to produce surprise earnings on the upside," says Carino. And when the fear factor dissipates and is replaced by greed, "the big investors looking for cheap, undervalued stocks will rediscover the cyclicals--among them USX," he argues.
Analysts have been cutting their earnings estimates on steelmakers, partly because the General Motors strike depressed demand and partly because of lower steel contract prices. Prudential Securities analyst Kenneth Hoffman was among those who cut estimates, but his rating on the stock remains a "strong buy," with a 12-month price target of 54. "We are in the beginning stages of a three-to-five-year global steel bull market," says Hoffman, and he thinks USX is one of the "vastly undervalued" steel stocks.
Before it's here, it's on the Bloomberg Terminal.
LEARN MORE