Wms Industries Is All Set To Pass Go
by
Know any Big Board stocks that have surged more than 100% this year? One company that has managed to perform this feat is a small-cap gambling stock: WMS Industries (WMS), whose shares zoomed to 6 3/8 on Oct. 13, up from a low of 2 1/2 in mid-June. The stock had been as high as 8 13/16 in late September--before profit takers took away part of the gain. What's behind the sizzle?
Two things: WMS has come out with a hot slot-video machine called Monopoly, and it's whispered that leading slot-machine maker International Game Technology (IGT) is eyeing WMS as a buyout target. IGT declined to comment, but an IGT insider says: "Some people are looking at WMS to do a deal." One stumbling block to any IGT design is Sumner Redstone, whose privately held operator of multiplex theaters, National Amusements, owns 25.5% of WMS. Leo Rishty, editor of Unique Situations newsletter in Weston, Fla., says: "Redstone may decide that WMS [the top pinball-machine producer] could be a good fit instead for National Amusements, or Viacom International"--of which he's chairman. He bought 250,000 additional WMS shares in May.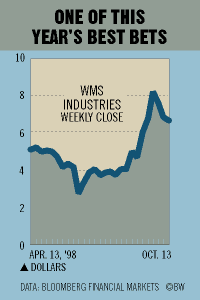 In the past few months, the Monopoly machine has become a "quick hit" in Las Vegas. Already used in at least six big casinos, including the Mirage and the Las Vegas Hilton, this variation on the board game Monopoly could produce earnings of more than $20,000 per machine per year for WMS, based on initial response at the casinos, estimates Rishty. "My guess is WMS will have at least 4,000 machines on location in nine months." A year from now, WMS could earn from $60 million to $70 million a year from Monopoly alone, he adds. WMS has a revenue-sharing pact with the casinos: It gets 20% of the "win" from Monopoly. For fiscal 1998 ended June 30, WMS posted sales of $98.9 million and an operating loss of $1.92 a share--which includes extraordinary charges.
Another person who's high on WMS is Michael Wallace of Warburg Dillon Read, who figures that the company will turn profitable sooner than expected, with earnings of 5 cents a share in fiscal 1999--without Monopoly. If Monopoly is successful, "there's upside potential to our fiscal 1999 forecast," says Wallace.
Before it's here, it's on the Bloomberg Terminal.
LEARN MORE