Who'll Pounce On Gryphon?
by
Will property-and-casualty insurer Gryphon Holdings (GRYP) come up with a white knight to ward off an unsolicited bid from specialty insurer Markel? "It looks that way," says Dan Veru, president of Awad & Associates Asset Management, which holds more than 5% of Gryphon. But he thinks Markel, which has accumulated 11.7% of the stock, won't give up easily. Gryphon was first featured in this column as a takeover target on July 14, 1997.
When shares of Gryphon slumped to 11 1/2 on Sept. 1--down from 18 1/2 in late April--Gryphon's board got a surprise offer from Markel to buy the company for $15 a share in cash plus $2.50 in notes. Markel has since sweetened the bid to an all-cash $18 a share. So far, Gryphon's board has ignored the bid.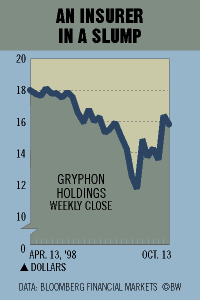 The stock, trading at 15, is worth 22 to 23, figures Veru. "Surely, the $18-a-share offer from Markel will be the floor price," adds Veru, who expects the bid to attract others. Steven Markel, Markel's vice-chairman, told Gryphon's board in a letter dated Oct. 1 that Markel was willing to sweeten its offer further "if you can establish that additional value is warranted." Markel notes that it would be "increasingly difficult for Gryphon to survive as a stand-alone entity" because of competitive factors, such as the soft market conditions in the industry.
Before it's here, it's on the Bloomberg Terminal.
LEARN MORE