Paul Harris Aims To Get Spruced Up
by
Ever heard of Paul Harris Stores (PAUH)? Its stock has collapsed--from 30 a year ago, to 5 1/8 by Oct. 8. Scary? Not to some players, who have snapped up shares of the Indianapolis retailer of mid-priced women's attire.
"It's one of the best buys in retail," says Harry Ikenson of Hambrecht & Quist in San Francisco. The stock has inched up to 7 recently. Behind the stock's fall were a decline in sales and a 48% earnings dive in the fourth quarter of fiscal 1998 (ended Jan. 1).
There is one other reason investors are buying: "The stock has become so undervalued," says one California money manager, "that Paul Harris could become vulnerable to a takeover." With a book value of $6 a share and no debt, that possibility can't be discounted in an industry that's consolidating.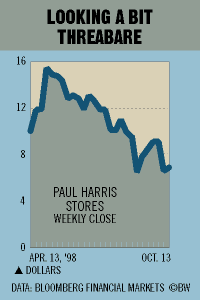 To Ikenson, improving fundamentals are reason enough to buy. "The bad news is out, and an upturn is under way," says Ikenson. "Sales trends in October have been excellent," he notes, and inventories are "in good shape and merchandise margins are up from last year." The company is building up its
brand name--in the same way that Gap uses its name as its image.
When the stock sank, management accelerated its stock-repurchase plan. By late September, it had bought 410,000 shares at an average of $9. It's likely the company will authorize more buybacks if the stock hangs low. Ikenson expects Paul Harris, which runs 290 stores in 29 states--mostly in malls--to open 21 stores this year.
His 12-month target for the stock is 19. For 1998, he sees earnings of 95 cents a share on sales of $250 million; for 1999, $1.18 on $299 million.
Before it's here, it's on the Bloomberg Terminal.
LEARN MORE