He Saw The Crisis Coming But It Didn't Help
Banthoon's Thai Farmers Bank is still in a severe crunch
by
Ask Banthoon Lamsam about Thailand's banks, and you see why he's such a controversial figure. The 45-year-old president of Thai Farmers Bank, the country's second-largest private bank, Banthoon isn't shy about pointing out the failings of Thai bankers--himself included. For instance, 30% of his loans are nonperforming, and that will rise to 40% by mid-1999. So how does that compare with other banks? "I don't know," he says. "I don't know who is telling the truth."
Candid talk, when you consider that Banthoon chairs the Thai Bankers Assn. He has irked unions and bankers alike with his calls for reform. "We have to face up to reality," he explains. He says Thailand needs bankers who are honest about their losses, regulators who have the courage to shut bad banks, and lawmakers who can pass tough laws on bankruptcy and foreclosure.
RAYS OF HOPE. Above all, Banthoon knows Thailand needs money. Recapitalizing the bank system will cost $25 billion--about 35% of GDP. Thai Farmers has announced a plan to raise funds through the bond markets, an idea that others are emulating. Credit-starved businesses are looking to Banthoon, who says he'll make new loans in a bid to revive growth. Since July, the bank has cut interest rates by 150 basis points, to 14%, and pledged to trim another 10 basis points by yearend.
Already, some rays of hope are shining. Thai Farmers shares, which performed poorly over most of the year, have strengthened since September. Other bank stocks rose after Siam Commercial Bank, one of Thailand's largest but weakest banks, raised $120 million in a bond offering in early October.
Partly because Thai Farmers' exposure to real estate is half the 14% average of Thai bank loan portfolios, the bank was able to raise $850 million on the stock market last spring. True, investors suffered after the stock fell 53%. Still, Dresdner Kleinwort Benson Securities analyst Russell Kopp praises Banthoon as "much more of a realist than 99% of the bankers here."
Yet Banthoon badly underestimated how far the damage would spread when the bubble burst. He was topheavy with loans to heavy industries such as pulp and paper--hard assets he didn't think would get hit in a real estate collapse. But overcapacity and a collapse in demand have sapped the quality of those loans. So, Thai Farmers lost $100 million in the first half of 1998, compared to earnings of $190 million in the same period last year.
This is all quite a comedown for a scion of a top Thai-Chinese family. Banthoon, whose grandfather founded the bank, received the best U.S. education money could buy. High school at Exeter. College at Princeton University, where he dabbled in soccer before joining Tiger Inn, the rowdiest--and one of the wealthiest--of the university's eating clubs. Then on to Harvard business school for his MBA. The Lamsams now own just 7% of the bank. The pliant board of directors--mostly friends and family--will get a shakeup by yearend, when Banthoon says foreign shareholders will get several seats because the equity placement last spring went to non-Thai investors. Even he could get the boot. "The bank is just too big to be controlled by a family," he says. "The deterioration of the economy accelerated that loss of control."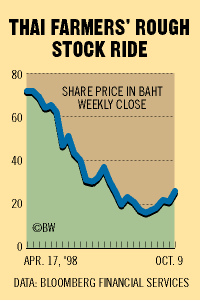 BOND AID. Banthoon now has to fight to keep his bank healthy and attract more investors. Right now, the proceeds of the rights issue give him a cushion. But he needs more than $1 billion more to recapitalize. On Sept. 30, the board approved his plan to issue $1 billion in preferred shares that convert into bonds. Given investor sentiment, there's no telling when that offering will occur.
Meanwhile, Banthoon is taking steps to boost efficiency and credit-risk analysis, so Thai Farmers can compete against the foreign players taking over smaller Thai banks. He's measuring the minutes customers stand in line, and looking beyond collateral value in approving loans. Though he may miss the days when "times were so good we could do anything and still make a profit," his one consolation is that he didn't make as many mistakes as his rivals. But he's paying the same price, and blunt talk alone won't dull the pain.
Before it's here, it's on the Bloomberg Terminal.
LEARN MORE