Corporate America: Hunkering Down In A Hurry
Fearing a slowdown, execs are slashing costs
William C. Symonds
During the long bull market, the annual gatherings of the 100 top chief executives who are active members of the Business Council were invariably buoyant affairs. But at the conclave that ended Oct. 10 in Colonial Williamsburg, the mood was as dreary as the drizzle that forced most CEOs to cancel their golf games. "We're coming down the other side of the mountain," reported the Council's vice-chairman, J.P. Morgan CEO Douglas A. Warner III. "We all agree [the economy] is going to slow down," he added, brandishing a survey that found 75% of the Council's CEOs believe the global crisis will depress growth "through most or all of next year." The rest fear its impact will extend for "several years."
But now that business leaders have tossed their rose-colored glasses and focused on the looming slowdown, there may be reason to hope that they can minimize the damage. Even Warner, whose firm is one of the few now predicting an actual recession in 1999, says he is "struck by the speed" with which CEOs are responding to the changing environment. In marked contrast to past slowdowns, when CEOs often tried to postpone their pain, virtually every day brings fresh announcements from companies planning major layoffs and restructurings in the aftermath of a third quarter that promises the first drop in corporate earnings in seven years.
And it's just the first wave. As companies draw up their 1999 budgets, a surprising number are taking such measures as cutting capital spending, reducing hiring plans, or trimming other spending, ranging from advertising to entertainment. U.S. companies "will batten down the hatches," predicts AlliedSignal Chairman Lawrence A. Bossidy, adding, "I don't see any reason to postpone things."
"EXCEEDINGLY TOUGH." But the preemptive moves carry their own risks. If companies cut too aggressively, they could make the downturn worse--by convincing workers that their jobs could be the next to go. That might curb consumer spending and push the U.S. into recession. "We are entering dangerous territory," worries David Wyss, chief economist at Standard & Poor's DRI.
Even without a recession, business conditions "are going to be exceedingly tough in 1999," warns Maureen Allyn, chief economist at Scudder, Kemper Investments Inc. With the U.S. economy slowing and much of the world mired in recession, revenue growth will be anemic, under 3%, she says. Meanwhile, profit margins are shrinking as the tight U.S. labor market forces companies to pay workers more. "We are seeing all the signs of a profits squeeze," adds Ned Riley, chief investment officer at BankBoston.
A key reason for the pessimism is that many U.S. companies are worried about their ability to price their way out of profit trouble. Just 4% of the blue-chip companies surveyed by the Business Council said they have "more pricing power" than a year ago, while 62% said they have less. Sure, a weaker dolLar would boost pricing power. But it hasn't yet. On Oct. 13, Eastman Kodak Co.'s stock plunged 13% after the photo giant reported its third-quarter U.S. consumer- imaging sales fell 10% to $849 million. Kodak actually sold 2% more film in the U.S. But the brutal battle with Fuji Photo Film Co. forced Kodak to slash its U.S. prices by 10%. Now Kodak, which has already cut 10,000 jobs, is planning to slash another 10,000 positions.
Indeed, in this environment, CEOs eager to shore up profits have few options other than cutting costs. On Oct. 8, Raytheon announced it would lay off 14,000 employees, up from the 8,700 it had announced last January. And in health care, Thomas F. Frist Jr., CEO of Columbia/HCA Healthcare Corp., figures that 25% of the not-for-profit hospitals in the U.S. are nearly bankrupt, and another 30% are heading that way. As a result, "I see massive reductions across the country, not just us," he predicts.
The heads are rolling on Wall Street as well, where third-quarter earnings are coming in as much as 80% below year-ago levels. On Oct. 13, Merrill Lynch & Co. announced a 5% payroll cut, about 3,400 jobs. Tough market conditions "will delay the growth of our firm," says CEO David H. Komansky.
Most companies are also putting capital spending under the knife. According to the Business Council's survey, 64% of blue-chip companies have pared capital-spending plans in recent months. Merrill, for one, is planning to cut technology spending, including axing 900 consultants. And Intel Corp. says it now expects capital spending to total just $4.2 billion this year, down from the $5.3 billion it expected in January--and down from the $4.5 billion to $4.7 billion it was forecasting just weeks ago.
COLD FEET. Countless smaller companies are making similar calculations. Across the economy, DRI expects capital spending to grow just 4.8% next year, down from 11.3% this year. "We're pulling in our horns," says Charles R. Patten Jr., president of $29 million Colfax Envelope Corp. in Buffalo Grove, Ill. He is delaying a $4 million expansion plan. "I'm concerned about the global situation," he explains. "The way I see it, consumer confidence is going down."
Executives everywhere are getting cold feet, it seems. Brunswick Corp. is closing 15 bowling centers in Asia, Brazil, and Europe; moving assembly of bikes from an Illinois plant to Mexico; and cutting a third of its distribution warehouses. Even brash media mogul Rupert Murdoch is exercising caution. In announcing that he would delay his planned initial public offering of Fox movie and television interests, Murdoch cited worries about advertising spending in a weaker economy.
For its part, UAL Corp. is making major changes in its route structure to cope with the spreading crisis. United is moving six of its enormous 747s from the Pacific to the U.S. domestic market by next spring because they couldn't fill the planes on Asian routes. "We kept looking at Japan and saying things weren't as bad as they looked," says President James E. Goodwin. "In reality, they were much worse." United is also closely monitoring its least profitable U.S. routes so it can pull out quickly if revenues slide.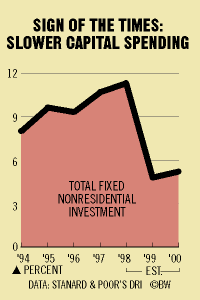 To be sure, not everyone is cutting back. And demand for high-ticket discretionary items such as boats, motor homes, and motorcycles remains surprisingly strong. Consider Harley-Davidson Inc., which on Oct. 13 announced its third-quarter net income soared 27.4%. Harley predicts production will soar 10% to 163,000 next year. Indeed, there's a wait of up to a year for Harley's Road King Classic.
But increasingly, such companies are the exceptions. For too many others, the glory days of the past seven years are now passing into distant memory--crowded out by the reality of a more challenging and dangerous future.
Before it's here, it's on the Bloomberg Terminal.
LEARN MORE