Britain: A Cut, A Palpable Cut
In an effort to stave off recession, the Bank of England joined the ranks of interest-rate cutters. On Oct. 8, it dropped its benchmark rate by a quarter point, to 7.25%, days after similar cuts by the Federal Reserve and the Bank of Spain and just hours after Denmark trimmed rates. The BOE move, the first in two years, was followed by rate cuts in Portugal and Ireland.
In its policy statement, the BOE said deteriorating global conditions meant that the outlook for demand and output has "weakened." Already, British purchasing managers say that manufacturing, especially the high-tech sector, has been shrinking for six months, a victim of falling export demand. Industrial production fell 0.4% in August, while past hikes in mortgage rates have slowed homebuilding. The Treasury has cut its real gross domestic product forecast for 1999 to show growth of 1%, a sharp revision from the 1.75% to 2.25% projected last March. Real GDP is still expected to grow 2% to 2.5% this year.
Consumer demand is beginning to slow, although special factors are distorting recent data. First, cold weather this summer boosted demand for food and clothing compared with a year ago. Second, the September figures are skewed because shops closed for part of last September following the Princess of Wales' death. Consumer confidence, however, is starting to crack as concerns about global uncertainties outweigh the security of growing incomes and tight job markets.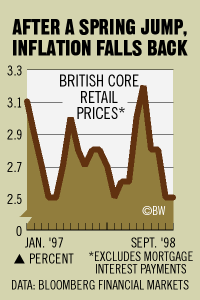 The BOE had leeway to cut because inflation has become less of a threat. Core retail prices, which exclude mortgage interest payments, were increasing as much as 3.2% in the year ended in May, but they were up just 2.5% in September (chart), equaling the bank's target rate. Producer prices paid at the factory gate fell 0.1% in September and rose 0.3% from a year ago, the lowest annual rate in 38 years. Extremely low inflation, along with the downshift in growth prospects, should give the BOE ample room to cut rates further, perhaps again in this quarter.
Before it's here, it's on the Bloomberg Terminal.
LEARN MORE