A `Black Hole' Emits Some Light...But The Old Gang Isn't Giving Up
The first snow can't be far off in Bratislava, but there's a springlike feel about the Slovak capital these days. "The long winter is over," exults Mikulas Dzurinda, the country's new Prime Minister. "This country has been the laughingstock of Europe for too long."
Although the senior partner in the outgoing Cabinet, Vladimir Meciar's Movement for a Democratic Slovakia (HZDS), gained the most votes in the Sept. 26-27 elections, the four major opposition parties, headed by Dzurinda's Slovak Democratic Coalition (SDK), command a combined 93 seats in the 150-member Parliament. With those parties now pledging to work together, a bleak era is at an end.
It's about time. In power for most of the past six years, Meciar headed an unlikely alliance of hard-left ideologues, far-right nationalists, and pragmatists. Since Meciar engineered a divorce from the Czech Republic at the end of 1992, his ragtag band has pulled licenses of hostile radio and TV stations, threatened critical journalists with jail terms, and even turned a blind eye while opponents suffered car bombings. Few observers disagreed when U.S. Secretary of State Madeleine Albright a year ago described this nation of 5.6 million as a "black hole in the center of Europe."
But business leaders fear the Slovaks haven't dug themselves out just yet. The SDK contains members from the Christian Democratic Movement, liberals, conservatives, the Green Party, and the Social Democratic Party. Their principal partners, the Democratic Left Party, include many unrepentant Marxists. The SDK's economic manifesto owes more to populism than realism. For example, it promises to double the average gross monthly wage of $435 by 2002, raise pensions from 33% to 50% of the average wage, and lower 14% unemployment to less than 10%--while cutting direct taxes. "They have to bite the bullet and upset some of the people who voted for them," says Bratislava-based analyst Pavol Karasz.
Given Meciar's years of fiscal mismanagement, however, the new government's first task is getting its hands on some cash. In September, the National Bank of Slovakia announced that state coffers are empty. Slovakia has one of the highest interest rates in Europe--more than 29% on recent two-year bonds--and faces serious budget and trade deficits and soaring foreign debt. The crown has fallen 13% since the election, and analysts predict a further 10% to 15% devaluation soon.
BELLY-UP. Meantime, controlling interests in the last of Slovakia's state-owned enterprises have been quietly sold off to members of Meciar's inner circle. Just before the election, his campaign manager, Alexander Rezes, gained control of the country's largest insurer, Slovenska Poist'ovna. Cynics allege that Rezes was after a fresh source of bailout cash for his ailing steelworks after a state-owned bank he acquired for a song went belly-up. With Dzurinda promising to investigate the fire sales, Meciar cronies who recently bought villas in Spain would do well to buy travel insurance.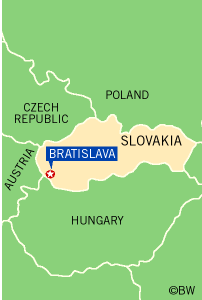 Meciar may be on the canvas, but nobody's counting him out just yet. Even before his defeat, he had begun preparing the ground for a comeback. When President Michal Kovac, a longtime enemy, reached the end of his four-year term in March, and Parliament failed to agree on a successor, Meciar took over most of his powers by default. He lost little time in halting proceedings against members of the Slovak Secret Service who allegedly kidnapped Kovac's son and murdered a witness to the 1995 abduction. He also gave amnesty to Interior Ministry officials who sabotaged a 1997 referendum on directly electing the President. "In effect, he was pardoning himself," says Jonathan Stein of the Washington-based Institute for East-West Studies. "He's making sure there's no dirt on him personally. I'd say he'll let Dzurinda reap the whirlwind he has sown, then try to do a comeback in a couple of years."
Still, the handover process is taking on a valedictory air. At his farewell press conference on Sept. 30, Meciar serenaded astonished reporters with a rendition in a whisky baritone of a schmaltzy ballad. "I never hurt anyone," he crooned. "I love you all." He sure had a funny way of showing it.
Before it's here, it's on the Bloomberg Terminal.
LEARN MORE