U.S.: Recession? What Recession? The Forecasters Don't See It
Low inflation and rates will support solid, if slower, consumer spending
by
Looking for something to break the gloom? Talk to the nation's business economists. Despite global financial turmoil and severe recessions in Japan and emerging Asian economies, the forecasters believe the U.S. economy will grow 3% this year, with the pace slowing to a still respectable 2.2% in 1999. Nearly 80% do not expect a recession by 2000. Feel better now?
O.K., it's just a forecast, but as the National Association for Business Economics gathered for its annual conference in Washington, D.C., on Oct. 4-7, a heavy air of impending doom was conspicuously absent. Only six of the 36 forecasters in the NABE's outlook survey expect global woes to cut the 1999 growth rate by more than a percentage point from what it otherwise would be. Low inflation and interest rates will support slower but solid growth in consumer spending, they say, helping to fuel the output and job gains necessary to keep this 7 1/2-year expansion going, although at a more moderate pace (table).
So far, there is little, if any, evidence to dispute the forecasters. September payrolls slowed, but the trend of job growth is probably stronger than last month's small job gain suggests. Despite the September dip in consumer confidence, consumers were upbeat enough to buy new autos at a vigorous pace. And the remarkable rally in Treasury bonds, which took the 30-year yield to 4.71% on Oct. 5, is supporting consumer borrowing and fueling mortgage refinancing. Economic weakness remains confined to manufacturers, who continue to absorb the chief blow to the U.S. economy from the Asian crisis--weaker exports (chart).
CLEARLY, FEDERAL RESERVE economists are a bit more anxious than their private-sector brethren. Recently released minutes of the Fed's Aug. 18 policy meeting show that the central bank's internal forecast expects the economy to grow through 1999 "at a pace somewhat below the estimated growth of the economy's potential," generally accepted to be about 2.2%. That's a significant shift from the staff's previous forecast, and it helped to justify the Sept. 29 rate cut.
Fed Chairman Alan Greenspan, who addressed the NABE gathering on Oct. 7, said he is particularly concerned about the ongoing reassessment of risk in the world, sparked by the Russian debt default. The result is less available, and more expensive, credit for many corporate borrowers, and he said the readjustment "hasn't come to an end yet." Still, he said the U.S. was "far short" of a credit crunch, and that the economy still has "fairly significant continuing momentum."
Indeed, as Fed Governor Laurence H. Meyer told the NABE on Oct. 5, the Fed's rate-cut decision was based entirely on a forecast, not on visible evidence of a slowdown. Meyer said that was why the Fed took only a cautious, quarter-point step. He said the Fed generally feels that "phase two" of a global slowdown is headed toward the U.S., but that scenario "depends critically on a slowing in domestic demand." The previously hawkish Fed governor believes that global turmoil will cut growth in U.S. demand by undermining the favorable set of financial conditions that have helped to fuel strong growth.
Weaker stock prices and higher borrowing costs mean that companies will face higher costs. Greenspan noted that the loss of $1.5 trillion in stock market wealth "has got to show up somewhere." Also, the latest Fed survey of senior loan officers shows that banks are tightening up their lending standards for businesses, especially larger companies that are exposed to potential losses from overseas. As financing costs rise, with profits falling, capital spending could tail off sharply.
CONSUMERS ALSO WILL FEEL the chill of less favorable financial conditions, but maybe not as much as companies. Some households will suffer lost stock wealth, and some will feel the effects of higher business costs as companies slow hiring, especially since labor costs are still growing faster than prices. But keep in mind that the reverse side of rising labor costs and weak pricing power is more consumer buying power.
The first sign of slower payroll gains might have been the September job report, which showed a slim 69,000 increase. The rise was the smallest since January, 1996. Temporary help companies posted losses of 37,000 workers. The trend in temp jobs appears to be turning down after two years of very strong growth. Temps are among the first to go when business slows.
However, other key labor market indicators do not confirm a sudden shift in the trend. A crucial one, the four-week average of new jobless claims through September, was the lowest since 1989, and it shows no sign yet of rising, as it always does at turning points.
To date, the only clear slowdown in job growth is in manufacturing, where overall hours worked have fallen sharply in the second and third quarters. The September report did show softness in service-sector hiring, but it's way too early to call that a new trend.
WHAT IS CLEAR from the NABE forecast is that consumers will have to be the glue holding the economy together in 1999, because the business economists expect little support elsewhere. They say capital-spending growth will be halved, housing will plateau, the trade deficit will widen, and inventory growth will slow. Excluding consumers, they expect growth in the rest of the economy to be barely above zero.
So far, consumers seem up to the task. Despite the financial market mayhem that has shaken their confidence, weekly retail surveys for September show no sudden weakening in buying, and September sales of new cars and light trucks rebounded strongly. The month's 15.6 million annual rate was above the year's excellent 15.3 million average (chart).
Although credit may be harder to come by for businesses, households will benefit from the drop in long-term Treasury yields, primarily through lower mortgage rates. The rate on 10-year Treasuries has dropped a huge 1.2 percentage points from late August to early September, from 5.4% to 4.2%, and 30-year mortgage rates appear headed toward 6.5%.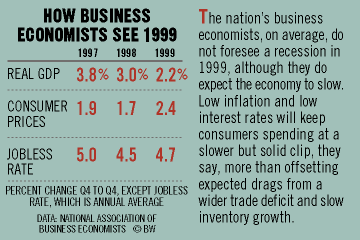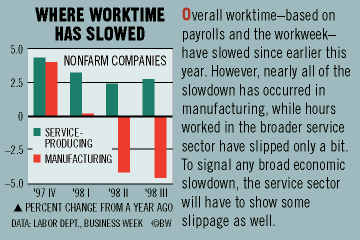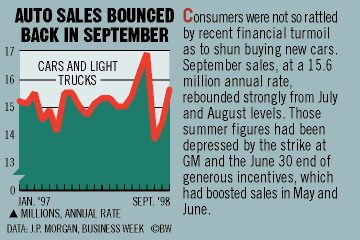 Lower financing costs will lift spending by supporting demand for homes and related items and through refinancing. Some consumers may cut monthly payments, while many could choose to keep their payment, take a larger mortgage, and pocket the cash.
The key question for the outlook: Are forecasters putting too much faith in consumers? After all, savings are at a record low and debt is high, despite good income growth. More losses in stocks or weaker-than-expected job markets could quickly alter consumers' free-spending ways. One thing is clear from past business cycles: When consumers pull back sharply, they take the rest of the economy with them. Let's hope the forecasters are right.
Before it's here, it's on the Bloomberg Terminal.
LEARN MORE