Tricon: With All This Fizz, Who Needs Pepsi?
Spun-off from Pepsi a year ago, it's spicing up results at its fast-food units
Peter Galuszka
Kazoos buzz and cowbells clang, shattering a Friday morning calm in the executive offices at Tricon Global Restaurants Inc.'s headquarters in Louisville, Ky. Casually dressed employees laugh and shout as they join in the so-called Roving Recognition Band snaking down the corridor to the office of John Henderson, a benefits analyst singled out for his good work on a budget report. Henderson waves thanks as workers clap plastic noisemakers.
Silly? Sure. But the band is just one of the gimmicks Tricon Chairman and Chief Executive Andrall E. Pearson and President and Vice-Chairman David C. Novak are using to rev up their 750,000 troops in the year since the fast-food operation was spun off from PepsiCo Inc. Novak regularly hands out rubber chickens to top-performing workers at the Kentucky Fried Chicken Corp. chain. At Pizza Hut Inc., they get big chunks of fake cheese. And at Taco Bell Corp., it's a giant papier-mache chili pepper.
Pearson and Novak insist that the improved morale created by such rah-rah antics is key to maintaining momentum at the three chains. So far, they have executed some predictable first steps: wringing cost savings from combined operations, closing underperforming restaurants, and selling many company-owned units to franchisees. But now comes the hard part. To keep growth up, they need to show the chains can replicate this year's strong product launches and catchy marketing--such as the wildly popular talking Chihuahua that pushes Taco Bell's Gordita soft taco. "You would think," Novak says, "that with Pizza Hut, Taco Bell, and KFC, we ought to be able to create a company at least the size of McDonald's."
He's not there yet--Tricon's 1997 company revenues of $9.7 billion don't match the burger chain's $11.4 billion. But after a bumpy start, Tricon has picked up speed. For the third quarter, all three chains should show per-restaurant sales gains for the first time in five years. Peter Oakes, an analyst for Merrill Lynch & Co., estimates Tricon will finish the year with operating income of $962 million, an 18.5% jump from 1997.
Not bad in an industry that usually measures its gains in the low single digits. And that's only the start of the good news. Profit margins are also up, thanks to the paring of 585 unprofitable stores and the expected refranchising of 1,300 others by yearend. That has helped Tricon generate the cash needed to pay down about $1 billion of the nearly $5 billion debt PepsiCo stuck it with. Wall Street is clearly impressed. The stock is up 16% since its Oct. 7, 1997, initial offering, compared with 1% for the Standard & Poor's 500-stock index. "We think well of their management," says Jeffrey J. Moran, an analyst at Pittsburgh's Federated Investors, which holds 2.2 million shares. "When they were under Pepsi, they were an afterthought."
Indeed, Novak and Pearson--both longtime PepsiCo executives--are still unsnarling some of PepsiCo's mistakes. The brands sometimes competed in ways that didn't make sense. KFC and Pizza Hut, for example, knocked heads in bidding for the same sites, driving up land prices. Today, Tricon coordinates those and other operations. By centralizing some food purchasing and packaging, the company estimates it will save $100 million a year. And consolidating media purchases under a division of Young & Rubicam gave it more advertising clout. "I think under PepsiCo, the division president said, `This is my business,"' Pearson says. "In Tricon, I think the notion is, `This is our business."'
Selling company-owned stores back to franchisees reverses another ill-fated PepsiCo legacy--one that started under Pearson when he was president of PepsiCo from 1970 to 1985. The soda giant figured it could make more money on operating margins than on franchise fees, so it went on a buying spree in the late 1980s and early 1990s. It wound up owning more than half of its restaurants--more than four times the level of McDonald's. But management couldn't keep pace, and margins sank. Novak now says he wants to push company-owned units down to about 20% of the total.
A more delicate task is repairing relations with franchisees. Many felt that PepsiCo execs didn't listen to their concerns. "PepsiCo's mentality," says Kenneth J. Wagnon, a Pizza Hut franchisee in Wichita, "was to treat franchisees as unruly children: Just shut up and do as you're told." But Novak, 45, has a reputation as a healer. Shortly after PepsiCo put him in charge of KFC in 1994, he resolved an eight-year legal battle with franchisees. Those relations will become even more critical as Tricon comes to rely on franchisees for a larger portion of overall sales. Novak will also need backing from the franchisees to push through companywide initiatives such as a more rigorous system for rating restaurant cleanliness, service, and product quality.
PROPER SEASONING. At KFC, Novak also honed his skills as a motivator. When he arrived, the chicken chain hadn't generated any sales growth in six years. Novak went to the field to find out why. He surveyed 2,000 restaurant managers and got the same responses: Get us more involved and help us retain workers. Novak listened. He improved the chicken quality by marinating before frying and gave workers goal-setting books.
The payoff came as KFC's same-store sales growth leaped from 2% in 1994 to 7% the next year. "At the end of the day, your success is determined by how your employees treat your customer," says Larry Flax, co-founder of California Pizza Kitchen, which was itself sold by PepsiCo last year. "It is different from buying a bag of Fritos or a bottle of Pepsi. David gets it."
When it became clear that a spin-off of the fast-food chains was imminent in early 1997, Novak seemed a logical choice to run them. But PepsiCo CEO Roger Enrico wanted a seasoned chairman to assist him. Novak recruited Pearson, 72, who had left PepsiCo to become a Harvard business school professor and an investment banker. Pearson says he thinks of Novak "as a younger brother" and stays at his Louisville home when visiting from Connecticut.
The duo wants Tricon managers to bond in a similar way. It helps that they have extended up to $20,000 in stock options--known as "Yumbucks," after the company's YUM stock symbol--down to the restaurant manager level. And they have put together a system in which ideas can be shared. During the Mexican peso meltdown of 1994-95, for example, Pizza Hut managers in Mexico noticed that customers could no longer afford regular-size pizzas. So they came up with smaller and cheaper "Pizza Mia" pies. Last year, Tricon airlifted those specialists to crisis-wracked Asia to help introduce smaller products there, too.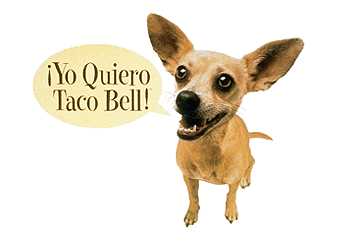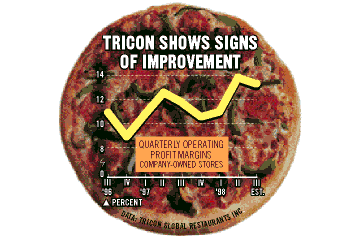 But the real test will come in Tricon's ability to pump out new products. Long term, Novak says that he wants same-store growth rates of about 4%, compared with about 2% at Wendy's and Burger King and 4% at McDonald's, according to Merrill Lynch. That can only be achieved by keeping customers coming in for new treats. So far this year, Pizza Hut has registered big gains with its Sicilian and Edge pizzas, and KFC with its Popcorn chicken. Curiously, although Taco Bell's Chihuahua exploded into a licensing icon, Novak and Pearson were disappointed in the lift it gave Gorditas. They say the spots didn't say enough about the tacos. Future spots will show more product, less pooch. Also in the works is a new chicken sandwich for KFC.
Can they keep it up? While rival chains have taken note of Tricon's progress, they aren't ready to judge it a total success. "They could do more to address their core business," says Barry Schwartz, Burger King's director of brand research and analysis. For now, though, many Tricon franchisees appear happy with the progress made. This is one case where a little freedom, some stock options, and a rubber chicken can go a long way.
Before it's here, it's on the Bloomberg Terminal.
LEARN MORE