Japan: The Gloom Just Keeps Deepening
By
Japanese business executives gave new Prime Minister Keizo Obuchi's policy efforts to reverse the economy's slide a big thumbs down, based on the closely watched tankan survey of 10,000 businesses. Despite new fiscal stimulus and an interest rate cut, business pessimism in the September quarter rose broadly with no hope for an upturn.
The tankan's key index of business sentiment among large manufacturers slid from -34 in June to a much weaker-than-expected -51 in September, the lowest in four years. The index subtracts the percentage reporting unfavorable conditions from those who say conditions are favorable. The survey was taken before the lower house of Parliament's Oct. 2 approval of a plan to let the government take over insolvent banks and help them to dispose of bad loans using public funds. The plan may lift spirits somewhat, but the outlook remains bleak.
Large nonmanufacturers were also more downbeat. Retailers, builders, realtors, and transporters reported sagging demand, weaker prices and real estate values, and rising bankruptcies. Small companies, especially hurt by evaporating bank credit, were even gloomier. The index for small manufacturers, who expect a 33% plunge in profits this year, fell to -57, the lowest in the tankan's 31-year history. The index for small nonmanufacturers was the weakest in 15 years.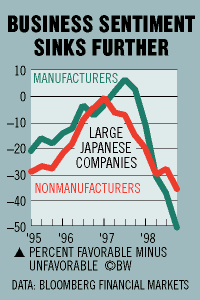 In addition to slumping Asian markets, domestic demand is also shrinking. Businesses plan 8.7% less capital spending this year, and with August joblessness at a record 4.3%, consumer spending is dead in the water. The latest Tokyo Chamber of Commerce survey shows that 58% of companies plan to cut hiring, with 80% considering cuts.
The government forecasts a 1.6% drop in real gross domestic product in fiscal 1998, the first negative forecast since 1974, but private analysts expect worse. The latest tankan has already sparked talk of more fiscal action, but analysts believe the economy now requires stimulus equal to several percentage points of GDP.
Before it's here, it's on the Bloomberg Terminal.
LEARN MORE