Is Imclone Still Inclined To Deal?
by
For weeks during the summer, shares of ImClone Systems (IMCL) had been hovering between 12 and 14, not only because the company has developed exciting anticancer products but because of rumors that a pact with a strategic partner was imminent. By late September, the hot money in the stock became impatient and bailed out. Result: ImClone plummeted, closing at a 1998 low of 5 15/16 on Oct. 6. Not so fast, says biotech maven Jim McCamant, editor of the Medical Technology Stock Letter in Berkeley, Calif. McCamant believes that a deal is in the works involving a European pharmaceutical company.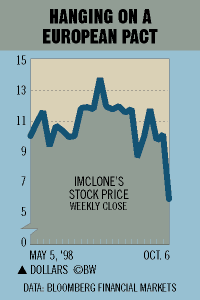 McCamant, who thinks signing up a European partner is near, says this new partner will either take a significant equity stake in ImClone or license ImClone's lead compound, C225, now in Phase 3 clinical trials to treat head and neck cancer, such as mouth or throat cancer. ImClone is also conducting trials for C225 as a therapy for renal cell cancer.
Another ImClone compound, BEC2, is a cancer vaccine that is being developed in collaboration with German drugmaker Merck KGaA (no relation to Merck & Co.). Also being developed are compounds to treat angiogenesis, which is the formation of new capillary blood vessels associated with tumors.
"ImClone's current market cap is unjustifiably low," says McCamant, who expects the stock to double once a partner is announced.
Before it's here, it's on the Bloomberg Terminal.
LEARN MORE