High Tech Booms In `Silicon Flanders'...But The South Could Rise Again
In the Belgian beer capital, Leuven, the Stella Artois brewery dominates the skyline. But on the top floor of a nearby warehouse, Jan Callewaert isn't thinking about hops or yeast. He picks up a Palm Pilot and snaps on a modem made by his company, Option International. Within a minute, he's downloading E-mail.
Thanks to mobile modems, Callewaert expects to double his company's workforce this year to 100 employees and sales to $38 million. Even with the recent market downturn, Option's stock is up four times over last year's launch price. The company, started a decade ago with $3,000 in Callewaert's personal savings, now is worth $250 million. "Leuven is much more than beer," says the CEO. "We're just like a Silicon Valley company--except we're in Europe."
Call it Silicon Flanders. Option is part of a wave of high-tech startups that is driving an economic renaissance in the northern, Dutch-speaking section of Belgium. "For every Walloon high-tech IPO, we have had five Flemish ones," reports Bruno Accou, head of corporate finance at KBC Securities in Brussels. Flanders, with a population of about 6 million, is growing almost twice as fast as southern, French-speaking Wallonia, with a population of 3 million. Over the past year, Flemish unemployment has fallen by three percentage points, to below 9%, while it has risen to more than 18% in Wallonia.
This widening disparity is escalating chronic political and social tensions. Negotiations are scheduled to open next year on social security funding; Flanders' regional government wants to follow its reforming Dutch cousins and cut unemployment benefits. But the socialist-led French-speakers refuse.
Cultural and historical reasons explain the different approaches. Wallonia industrialized early in the 19th century and has spent much of the past few decades wasting public funds to prop up aging steel plants and coal mines. Although centuries ago, Flanders produced the lovely merchant cities of Bruges and Ghent, it industrialized later and developed a strong tissue of smaller, export-oriented, family-run companies.
SPROUTING. The region's universities and multilingual workforce--many more Flemish speak French, English, and German than their Walloon cousins--give Flanders a head start. Ieper is home to Lernout & Hauspie Speech Products, a computer speech-recognition company in which Microsoft Corp. has invested. "Language is a natural product for the Flemish," says Rudy Hageman, President of Real Software Group. Some 15 other computer-speech companies have sprouted in Ieper.
Biotechnology, meanwhile, is booming in Ghent. Innogenetics, co-founded by a doctor from the city's university, announced on June 26 that it was on the verge of developing a hepatitis C vaccine. An estimated 100 million people suffer from the ailment, explaining why Innogenetics Chairman Rudi Marien says: "This is a major breakthrough, almost like saying you have an AIDS vaccine." He's hoping for another breakthrough: a fivefold sales increase over the next five years.
Since August's market turmoil, stock prices of Option, Lernout & Hauspie, Innogenetics, and other Flemish tech stocks have fallen back. And some market offerings have been postponed. "The sea is rough outside," says KBC's Accou, "so we're advising even our best boats to stay in harbor."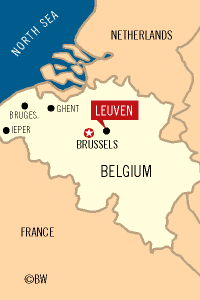 But Accou hopes the storm may end in six to nine months, and by then, the lagging Wallonian boat also may set sail. Ion Beam Applications, a maker of medical cyclotrons that treat cancer, went public last spring, and EVS, a maker of sophisticated video transmitters, hopes to follow. They are located in French-speaking Louvain-la-Neuve and Liege, respectively.
Wallonia's macroeconomic situation is also improving. Exports are rising to France, and "consumer confidence is improving," says Kristin Vandenbergen, an economist at Banque Bruxelles Lambert.
Even Wallonia's deep-rooted socialism is weakening. Parliamentary elections are scheduled for next spring, and polls show the free-market-minded Liberals leading. If they win and find common ground with their Flemish compatriots, all of Belgium may find itself on a high-tech cruiser steaming full ahead.
Before it's here, it's on the Bloomberg Terminal.
LEARN MORE