The ruddy dirt road cuts through plains of black basalt stretching to the horizon. This harsh finger of land is part of the Badia, which encompasses 85% of Jordan and borders the furnace of the Arabian desert. It is semi-arid, with less than eight inches of annual rainfall. As brutal as it is, the Badia may be the key to Jordan's future. So dozens of government scientists and laborers, and employees of private companies are coming here, searching for ways to make it bloom.
Jordan's goal is not just to increase productivity but also to develop jobs for the nomadic Bedouins and one day, perhaps, to resettle many urban Jordanians here. "It is crucial to Jordan's future," says Salem Al Oun, assistant director of the Badia Research & Development Project.
The project, which began in 1993 and has a modest annual budget of $300,000, is a joint venture between Jordan and Britain. The project's first step analyzed the Badia's resources: land, water, agriculture potential, and energy deposits. Now, Jordan is funding efforts to develop those resources.
The project is critical to those brave souls clinging to a centuries-old way of life. Most are poor and uneducated, and their land yields little. Last year, the Badia was drier than usual--it got less than four inches of rain. Ironically, the area holds 60% of Jordan's underground water. But most of the water is pumped to urban centers, leaving less for the Bedouins than in former times.
The Bedouins have also been hit hard by modernization. Jordan has tightened its borders with neighboring Syria, Iraq, and Saudi Arabia, curbing the Bedouins' nomadic lifestyle. In order to meet guidelines for grants from the International Monetary Fund, Jordan also cut feed subsidies to Bedouin shepherds.
The Badia Project is beginning to make up for that reduced government spending. Researchers have discovered 13 deposits of zeolite, a natural element that helps the ground retain water. Now, growers here mix it with soil to increase grape and apple production. Scientists are introducing drought-resistant grass for animal feed. And engineers have installed solar panels that capture energy used to pump underground water to livestock.
The normally cautious Bedouins are enthusiastic. One morning, with the temperature at 104F, I drink my fourth glass of hot, sweet tea with Abu Akef, a Bedouin shepherd, in one of two ramshackle buildings that house his family. Agronomists are experimenting with part of his land--a marab, or low-lying valley--to grow barley and wheat, instead of scrub vegetation. He keeps the produce. It's a good place to study, since winter rains flood the marab to produce fertile soil. While his seven kids play in the yard, Abu Akef lights a Viceroy and says: "God willing, this will be good for all of us, and we need the help since life is hard here."
BIG IDEAS. Bedouins like Abu Akef--who live in tents or simple stone houses--represent the seven tribes on the project's board, giving the people a voice and sharing their wisdom from generations of living off the land. Some propose their own projects. One has submitted a detailed feasibility study, complete with cardboard model, for a food-production factory. Project Director Muhammad Shahbaz says there's a good chance it will be funded. He wants commercially viable projects that won't compete with products already available in the local market. One idea he likes: fat-free margarine made from goats' milk.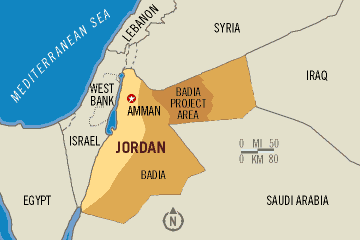 Private industry is drawn here, too. Drugmaker Dar Al Dawa, based in Amman, is experimenting with local herb remedies--Arabic qaysum, for digestion, and sheeh, which is brewed in tea for malaise and stomach aches.
While the Bedouins hope the project will improve their standard of living, Jordan has something more in mind. It wants the Badia for possible resettlement. The nation's population is increasing at more than 3.5% annually. "We need to learn how to live in the Badia," says Shahbaz. But so far, there has been no rush to build housing here.
The Badia has made its inhabitants tough. But by drawing on their natural resources, they may gain an easier lifestyle--and a few new neighbors.
Before it's here, it's on the Bloomberg Terminal.
LEARN MORE