The Bets Are Big Inside The Midway
by
Insiders at Midway Games (MWY), maker of video games for coin-operated machines and home players such as Nintendo, Sony, and Sega systems, are placing big bets on their own stock. With Midway shares at 12--down from last year's high of 26, insiders, including Chairman and CEO Neil Nicastro and Executive Vice-President and Chief Financial Officer Harold Bach Jr., have been big buyers. Do they know something that outsiders don't?
"All we can say is the stock at these levels is a bargain," says Nicastro, who bought 100,000 shares in May and June at an average price of 13 1/4 apiece and another 20,000 shares in August, when the stock's price had slumped to 9 3/4. So far, he has accumulated 433,000 shares--or 3% of the 37 million shares outstanding.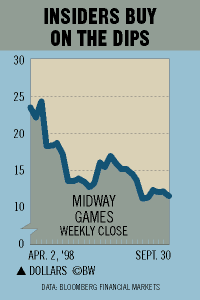 Midway's largest investor is Viacom Chairman and CEO Sumner Redstone, who has a 25% stake. Redstone got the shares when WMS Industries--of which he owns 26%--spun off to shareholders in 1997 its 87% Midway interest. Nicastro says he has no idea if Redstone will buy more shares.
Midway itself is buying back shares: After repurchasing 1 million in August, it recently authorized buying another 1 million.
Analyst Robert Peterson of Piper Jaffray is also bullish on the stock: His 12-month target is 20, based on his 1999 profit estimate of $1.40 a share. With a p-e of 9, Midway is very attractive, vs. a p-e of 15 for its peers, he notes. Another plus: Midway's latest game, NFL Blitz, is expected to be a hit this Christmas, along with such mainstays as Mortal Kombat and Space Invaders.
Before it's here, it's on the Bloomberg Terminal.
LEARN MORE