Stan Shih's Moment Of Truth At Acer
Is a partial retreat enough to halt Acer's slide in the U.S.?
Jonathan Moore
Acer Group Chairman Stan Shih is known in Taiwan as a computer guy with a vision. Since he founded the company in 1976, Shih was among the first to see the huge market for personal-computer clones, popularize home PCs, pioneer the big emerging markets of Latin America and Southeast Asia, and adopt the build-to-order technique that now dominates the industry.
But one Shih goal remains as elusive as ever: to make Acer a leading computer brand in the U.S. The company remains the world's third-largest PC manufacturer and is a powerful brand in Asia, but its U.S. share has slipped from 5.4% in late 1995--when Acer had a breakthrough with its sleek Aspire--to just 3.2% now, according to International Data Corp. Acer's U.S. operations lost $75 million last year and will likely lose $50 million more in 1998. Throw in a huge loss in its Taiwan memory-chip venture, and profits at parent Acer Inc. are expected to drop by 6% in 1998, to $101 million, on sales of $2.6 billion.
It's looking like the man who put Taiwan on the world computing map is running out of big ideas. In August, Shih announced the second major reorganization of the group in four years. He canceled plans to spin off the $1 billion Acer America Corp., based in San Jose, Calif., and other overseas units as independent companies. Instead, global strategy for product lines such as PCs, peripherals, and consumer appliances will be supervised from Taiwan.
In the U.S., Acer is making a tactical retreat. Admitting it can't compete head-on with the likes of Dell, Compaq, and IBM in the general consumer market, Acer is narrowing its focus to sub-$1,000 PCs, aimed at first-time buyers, and simple systems for schools, local governments, and businesses. And it has halted plans to buy a German PC plant from Siemens-Nixdorff Information Systems. "Our resources in the U.S. and Europe are limited," says Shih. "We have to focus on niches."
But many industry analysts, and even some Acer insiders, think it's time Shih tried something more dramatic and abandon his dream of building any brand presence in the U.S. Shih's critics note that with the U.S. PC market consolidating fast, Acer has little chance of becoming more than a marginal player. And the markets Acer is targeting, such as corporations and budget-conscious consumers, are saturated as well. "Why would a customer buy an Acer?" asks an executive at a major U.S. PC retailer. "It's a nonbrand."
Instead, they think Acer should build its brand in Asia and add to its successes as a contract manufacturer of $2.4 billion worth of PCs and components for other computer giants. Acer, they point out, remains the top brand in Mexico, South Africa, and 11 other emerging markets. And it's No.4 in non-Japan Asia.
"MISSION IMPOSSIBLE." But Shih plans to soldier on. He believes even a toehold in America is critical to maintaining a global brand. And owners of brands make better margins than the guys who just manufacture under other companies' names. "It's almost a mission impossible," says Shih, "but all of our people are ready to fight for that mission." But because Acer has little distribution through such major computer retail chains as CompUSA Inc., its PCs will be relegated to mass outlets such as Wal-Mart Stores, Sears, and Best Buy.
For the future, Shih is betting there will be big a consumer market for cheap information appliances that will be used for everything from entertainment to home banking. He also wants to sell custom-designed devices to banks, hospitals, and airlines. "If we can be a king of some selected markets, then we can be somewhere," figures Acer Inc. CEO Simon Lin, who is heading the effort.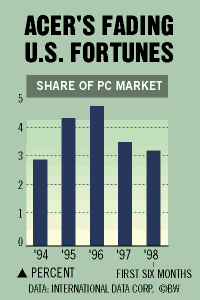 Critics agree these strategies may be viable, given Acer's strengths in manufacturing and technology. But they also note Acer America's longstanding reputation for weak marketing, strategic reversals, and management upheaval. "The question is whether they can execute," says a former Acer manager.
Other observers sense a deeper problem--that Acer may simply have lost its sense of direction. "Stan Shih is in the most uncomfortable position in his career right now in trying to form a successful idenTity for the company," says Gartner Group Inc. computer analyst Christopher Goodhue. Yet if Shih has proved anything in the past two decades, it's that he's never at a loss for big ideas for very long.
Before it's here, it's on the Bloomberg Terminal.
LEARN MORE