Is Varian Far More Than Its Parts?
by
When Varian Associates (VAR) announced on Aug. 21 that it would spin off two of its three businesses, its stock popped up nearly 7 points, to 43 a share. But much of that gain melted in a couple of weeks when investors sensed that profits from its semiconductor-equipment business would come under pressure. Indeed, on Sept. 25, Varian warned that fiscal fourth-quarter earnings would be disappointing.
No matter, says Joseph Cornell, president of Spin-Off Advisors, a Chicago firm that specializes in finding inefficiently priced stocks involved in spin-offs. Varian's stock, now at 35 1/4, is below its sum-of-the-parts value, argues Cornell. "The market is placing a value of $1.1 billion on the stock; we believe Varian's three separate businesses will garner a higher market value as separate companies--a total of about $1.5 billion, or $50 a share," Cornell says. Varian has three core businesses: health-care systems, analytical instruments, and semiconductor equipment.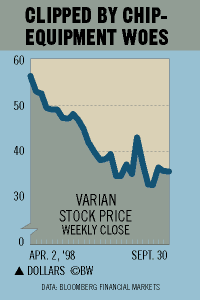 Varian will spin off to shareholders its health-care and instruments operations. The health-care unit, which makes X-ray tubes and radiation machines for cancer treatment, should have 1999 revenues of $570 million and aftertax profits of $40 million, estimates Cornell. This business, he figures, is worth about $22 a share, based on a price-earnings multiple of 17, vs. an industry p-e of 20. The instruments unit, which makes lab and analytical tools for chemical analyses, should have sales of $615 million and earnings of $28 million. At one times sales, it is worth $20 a share, he estimates.
Varian's semiconductor unit makes and services ion-implantation systems--a key step in producing chips. Most of the major chipmakers use its equipment. Because of weak sales, Cornell expects that the unit's 1999 sales will fall to $275 million, from 1998's estimated $424 million. Profits, he adds, should drop to $5 million, from $10 million. He values the unit at 90% of sales, or $8 a share.
Before it's here, it's on the Bloomberg Terminal.
LEARN MORE