Gillette Takes A Shave And A Big Haircut
A $535 million restructuring in the face of uncertain growth
William C. Symonds
Through the long bull market, Wall Street had a love affair with Gillette. And why not? The company steadily produced double-digit earnings increases, and often came within a penny or two of analyst forecasts.
No more. In a hastily arranged Sept. 29 conference call, CEO Alfred M. Zeien stunned Wall Street by conceding that Gillette's operating earnings in the third quarter would reach just 30 cents a share, 20% below 1997's level and 25% below the Street's consensus expectation. Gillette will also ax 4,700 jobs, close 14 factories, and close or consolidate some 30 offices worldwide. The resulting $535 million restructuring charge--the largest ever at Gillette--will cut third-quarter results to no better than breakeven. The Gillette bulls are now in retreat: Its shares have dropped to 38, from 62 in July.
Even worse, Gillette's longer-term outlook is suddenly anything but certain. Zeien bravely suggests that Gillette "should be rolling again" in 1999, and he is not jettisoning his global ambitions. Still, even Zeien concedes that the emerging-markets crisis is "different than anything we've faced in the last 20 to 30 years," and "we don't know how long this is going to last." And since Gillette depends on markets outside the U.S. and Western Europe for 34% of sales, "no one really knows how Gillette will do," says Jay Freedman, an analyst at Lincoln Capital. "And if China and Brazil and Mexico go, it will be worse than the market thinks."
STIFF ARM. Gillette has compounded its problems by the way it managed the situation. For weeks, it stiff-armed inquiries from worried investors, even as the crisis spread from Asia to Russia and Brazil. Behind the scenes, Zeien was scrambling to contain the damage, in part by booking a gain on the sale of Gillette's Jafra Cosmetics unit, which even he says he tried to time for the third quarter. But in the end, his efforts may have done more harm than good. "I used to think I understood what was going on at Gillette," fumes one analyst. "But now I don't know what to believe."
Zeien created more confusion by refusing to be specific about closings. Soon, staffers from the governor of Massachusetts' office were calling to check out a Boston radio report that the company would eliminate jobs at its "World Shaving Headquarters" in South Boston--despite the fact that Gillette just invested $400 million in the plant.
Although Gillette's immediate problems stem from its overseas ambitions, it is not lowering its sights. The restructuring is aimed at completing the makeover of Gillette into a truly global company. Each of six business units--from shaving to Oral B toothbrushes--will have worldwide responsibility for its own product development and manufacturing. Gillette will also consolidate several sales units. Zeien says this should save $200 million.
But there is no global retreat. Even as he shuts factories, Zeien says he plans "huge capital expenditures to increase capacity in most product lines." At the same time, Gillette is gaining market share in some countries: Zeien says it now has 72% of the blade market in Russia and over 90% in Poland. Gillette is also shopping for acquisitions. Zeien notes that one troubled Korean battery maker already voiced a desire to be bought by Gillette. Even so, Gillette will face huge challenges in selling higher-priced products in these depressed markets.
Gillette's woes have been compounded by the launch of its biggest bet for the future: the Mach3 razor. Even as overseas revenue falls off, Gillette is accounting for some of the $1 billion in startup costs in the early stages of the rollout, which began in late June.
BIG MACH. Zeien is certain Mach3 is well on its way to stellar sales. He says it already has 17.6% of the U.S. wet-shaving market. By 2002, he predicts, Mach3 will be a $2.5 billion business, adding $500 million a year to profits.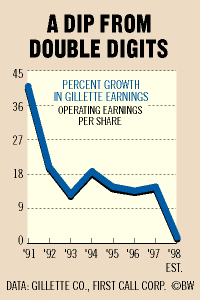 But that assumes a steady buildup from here. "Mach3 is still in the novelty stage," worries Jack Trout, a Greenwich, Conn., marketing consultant. Over time, "I'm not sure it is so dramatically better than Sensor" that U.S. consumers will pay a premium for it. And in the emerging markets, where Mach3 will debut in 1999, "they won't be selling a lot of expensive blades," Trout adds.
There's little doubt that Gillette will again enjoy vigorous growth--at some point. But for the first time in a decade, there's uncertainty about when and how fast Gillette will return to its glory days.
Before it's here, it's on the Bloomberg Terminal.
LEARN MORE