Commentary: The Health Care Net Is Shrinking
Aaron Bernstein
For the past several years, no one has been complaining much about affordable health coverage or the plight of the uninsured--and for good reason. Medical costs have been so tame that companies and employees alike are paying less for health insurance, after inflation, than in the early 1990s. A record share of the population is working, giving more people access to employer plans. And wage hikes are beating inflation, so more families can afford co-payments.
Economic conditions have been nearly ideal--but how deep is their impact? Not very. True, the share of the population with employer coverage has stopped its downward spiral. But coverage hasn't recovered any lost ground either, leaving the ranks of the uninsured at high levels. The point was driven home on Sept. 25, when the Census Bureau released 1997 health coverage statistics. In 1987, employers covered 69% of the nonelderly population. By 1993, the level was only 64%, where it has been stuck ever since, according to an analysis of Census data by Washington-based Employee Benefit Research Institute (EBRI) (chart).
REVERSE COURSE. This is bad news, since at least some of the current positive economic factors are sure to reverse course in the next year or two. Medical costs are starting to rise again, with premiums jumping 3.3% this year, according to KPMG Peat Marwick. If that continues, or if job growth or wage increases turn down, medical coverage is certain to slide more--landing more people suffering from more acute illnesses in emergency rooms of hospitals. Unfortunately, welfare reform will contribute to the problem, because former recipients usually find low-wage jobs that are the least likely to offer insurance. "It's only going to get worse," says Victoria Caldeira, a health-care lobbyist for the National Federation of Independent Business, which represents small employers.
Nor is relief in sight. Since the flameout of Hillary Rodham Clinton's 1994 health-care initiative, Democrats haven't had many new ideas for preventing the return of big cost increases, and neither have Republicans or business groups. Unless policymakers start to grapple with costs now or find new ways to help the uninsured, we may be caught flat-footed when the problem flares up again.
SAVINGS. Still, there's no question that the past few years have helped alleviate the crisis of the early 1990s. The shift to managed care and lower overall inflation has worked wonders on expenses. After years of double-digit increases, premium hikes lagged the medical inflation rate from 1994 to 1997, according to annual surveys by KPMG. As a result, inflation-adjusted employer spending on employee health care has plunged by 22% since 1992, to $1.13 an hour, according to an analysis of Bureau of Labor Statistics data by the Economic Policy Institute, a Washington think tank.
Employers haven't shared much of the savings with their employees, though. Workers paid an average of $120 a month for family coverage last year. That's down just 5% from 1992, after adjusting for medical inflation, according to KPMG. Even though employers are offering health insurance plans to slightly more people than in 1989, three recent studies show, fewer employees are signing up because of the cost. "The main problem is affordable coverage," says Thomas H. Rice, a professor of public health at the University of California at Los Angeles who co-authored one of the studies.
If medical inflation returns in force, employers may again slash coverage or shift costs to workers, some of whom will drop their insurance coverage. Small employers are particularly vulnerable. Tugboat operator Thompson Marine Transportation Co., based in Morgan City, La., got hit with a 50% increase last month for the health insurance it offers its 25 workers. The company now shells out $6,200 a month to keep them covered, says owner Robert J. Thompson. "I wouldn't discontinue coverage if it goes up again, but I might have to ask my people to pay more," he says.
WELFARE MOTHERS. Not surprisingly, the pool of uninsured Americans climbed again in 1997, by about half a percentage point, to 18.3% of the nonelderly population, according to EBRI. Declining welfare rolls are a key reason. Although many low-wage workers remain eligible for Medicaid, they're not getting it. Health experts say part of the explanation may be that many states have done a poor job of providing the forms and assistance that these workers need to re-enroll after leaving welfare. In addition, many former welfare mothers may not realize that they're still eligible for Medicaid if they earn near-poverty incomes. Whatever the cause, Medicaid enrollment has declined by nearly two percentage points since 1993, to 11% of the population last year, according to EBRI. Since employer coverage is unchanged, more Americans are left uninsured.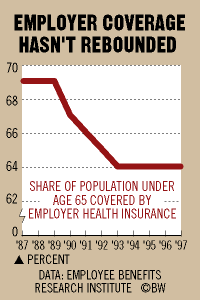 Unfortunately, the problem is likely to get worse. Welfare reform's new time limits will probably force 1.5 million more recipients off the rolls in the next couple of years, according to studies. Many will land jobs with no insurance. And if unemployment edges back up, they'll probably be among the first to be left out in the cold.
Employer-based health insurance served the country well for half a century, ever since company plans proliferated in the 1940s. That model began to fray in the late 1980s. Given the high price of care today, it's not clear that small employers or those that pay rock-bottom wages can afford to remain in the game. Either we come up with a way to help them, or the system may soon break down even further.
Before it's here, it's on the Bloomberg Terminal.
LEARN MORE