Colombia: Reform May Still Rescue This Economy
Latin America, a key source of U.S. export growth, contiNues to be hit by the Asian flu. One recent victim: Colombia.
On Sept. 2, its central bank devalued the peso, shifting its trading band to allow for an annual depreciation of 7% to 23%. The previous band allowed for maximum depreciation of 13% to 14% this year. Short-term interest rates, which had begun to fall, shot up as the bank squeezed liquidity to deter peso speculation. Rates are starting to slide, but remain high.
The centralbank also lowered the foreign reseRve requirement on borrowing abroad to 10%, from 25%, and cut the security's maturity to 6 months from a year. Those steps could bring in more dollars and help lower rates.
But much of the damage is done. Real gross domestic product in 1998 will likely grow just under 3%--down from 3.1% in 1997 (chart), and less than the government's early-year target of 4.5%. And high interest rates are hitting construction, a key source of jobs. The jobless rate, 15.8% in June, may rise to 20% by yearend, some analysts say. Growth will be even weaker for much of 1999, aS fiscal tightening dampens domestic demand. But interest rates likely will fall next year, aiding growth later on.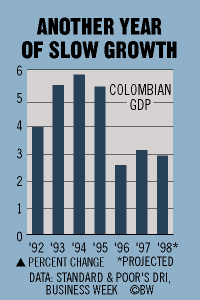 The new government of President Andres Pastrana is willing to sacrifice a little growth next year to correct Colombia's troublesome fiscal deficit. The reform proposals before Congress include widening the value-added tax base, cracking down on tax evasion, cutting spending, and improving municipal tax collection. The government hopes the reforms will cut the fiscal deficit immediately, to a central government deficit this year of 4.8% of GDP, from a projected 5.2%, and a consolidated public-sector gap of 3.3%.
While Pastrana's efforts were applauded, congressional opposition means that the plan could fall short of its goals. A prolonged debate in Congress or only partial approval of the plan would fuel further attacks on the peso, likely forcing the central bank to keep rates high.
Before it's here, it's on the Bloomberg Terminal.
LEARN MORE