Cereal Box Killers Are On The Loose
New packaging and products are ripping into Kellogg's share
by
The contrast speaks as loudly as Tony the Tiger's roar. In the last month, the Kellogg Co.--the nation's largest cereal maker--has announced it's considering a big layoff at its headquarters in Battle Creek, Mich., and the chiefs of both its North American and European divisions have quit. Earnings have missed their target in each of the last two quarters, and the stock, at 34, is down more than 30% this year.
Meanwhile, at the Quaker Oats Co.--a relatively small fourth player in the industry--cereal volumes have increased every quarter for the past two years. Market share is up two percentage points in the last two years, and the stock is trading near its all-time high.
So what's Quaker's secret? It's in the bag--the cereal bag, that is. For the past three years, Quaker has been rolling out a line of bagged cereals that are cheaper versions of its rivals' national brands. By skimping on packaging and marketing costs, Quaker can sell bagged products for about $1 less than boxed counterparts. And Quaker is not alone. Malt-O-Meal Inc., a smaller Minnesota company that has long produced boxed knockoffs of the national brands, also now offers its cereal in bags. Since 1995, bagged cereals have skyrocketed from virtually nothing to account for 8% of all cereal packages sold. "The taste is similar, and it's probably a dollar or two less," said Jim Buchner while buying a bag of Malt-O-Meal's Golden Puffs at a store in Overland Park, Kan.
Bags are just the latest sign that the ready-to-eat cereal industry is going through wrenching changes. Over the past decade, industry leaders, particularly No.2 General Mills Inc., have jacked up the cost of a box of branded cereal to as much as $5. But while prices have gone up, demand has gone down, as hectic lifestyles have Americans looking for breakfast to eat on the run. "A Pop-Tart or a bagel or a muffin is a lot easier to eat while you're driving a car than a bowl of cereal," says Merrill Lynch & Co. analyst Eric Katzman. The result: U.S. cold-cereal sales fell by 15% in real terms, or more than $1 billion, between 1994 and '97.
Almost the only players to make any headway against those forces are the ones that have offered consumers a lower-priced alternative. Malt-O-Meal's market share has more than doubled, to 4%, in the past five years. Quaker's share of cereal sold in the U.S.--including its boxed brands, such as Life--is 10.1%, up from 8% two years ago, says Donaldson, Lufkin & Jenrette Inc. analyst William Leach.
Whether they're in a bag or a box, the cheapo cereals show just how tired consumers are of paying ever higher prices for a relatively unexciting product. The knockoffs--with comically ripped-off names like Rice Crisps and Frosted Flakers--are stealing market share despite some major disadvantages. Not everybody agrees with Kansan Buchner about the taste. Kids sometimes complain that they don't have a box with games or cartoon characters. And the zipper-like bags can be difficult to close or store. The growth of these low-end products shows how out of step cereal giants have been with shoppers' preferences. In fact, few consumer products have suffered more in recent years than ready-to-eat cereals.
For Quaker, bags are to some degree an admission of defeat. Referring to the industry's habit of pushing expensive cereals backed by costly ad blitzes, Quaker CEO Robert S. Morrison told an industry conference earlier this year: "The days of `high price, high spend' in the cereal category are perhaps over." That's bad news for the big marketers. Margins on bagged cereals are thin as a corn flake, about 3% to 5%, vs. 15% for branded, boxed products.
PAINFUL SLIDE. Still, what it has lost in margins, Quaker has more than made up in volume. Brisk sales of its bagged products helped push its second-quarter operating income from ongoing businesses up 14%, to $199 million. During the same quarter, Kellogg's profits fell by 17%, to $143 million.
The inventor of "Snap, Crackle, Pop" has a new plan to fight back, but unlike Quaker, it's not willing to dent margins by adding a cheaper cereal line. In June, 44-year-old Carlos M. Gutierrez, a 23-year Kellogg veteran who had headed up global business development, vaulted over execs at bigger units to become president--and the leading candidate to replace Arnold G. Langbo as CEO. Kellogg plans to cut $100 million in annual costs, probably through layoffs, and use the savings to boost ad and promotion spending. It recently invited five ad agencies to submit new marketing ideas. Kellogg executives declined to comment on their plans.
Kellogg's painful market-share loss, from 38% to 32% since 1994, has left industry-watchers skeptical it can persuade more consumers to pony up for stagnant brands like Fruit Loops and Corn Flakes. Since 1995, Rice Krispies has lost more than a third of its market share and Apple Jacks about one-sixth.
To make its marketing blitz pay, Kellogg hopes to come up with some blockbuster products. Kraft Foods Inc.'s Post unit--the No.3 cereal maker--is the only one of the Big Three to show a sales gain over the past year, according to Information Resources Inc. Post got a boost from new products like Oreo O's, launched this summer with a bigger-than-normal $40 million campaign.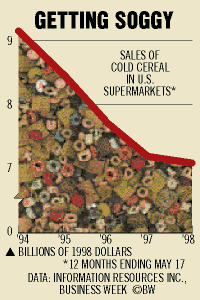 The pressure on the big marketers is not likely to let up soon. Private-label cereals, which right now come mostly in boxes, have grown almost as fast as the bagged versions in the last five years, but still have room to grow. Altogether, generic products are responsible for less than 12% of the cereal segment--compared with about 20% of the cracker, cookie, and nuts category.
Indeed, generic powerhouse Ralcorp Holdings Inc., which now holds a 55% share of the private-label boxed category, may try to muscle in on the bag market. Said Ralcorp CEO Joe R. Micheletto, speaking to a group of analysts in June: "We are seeing more and more retailers asking for store-brand bags." That could soon mean even more no-name rivals for Tony the Tiger.
Before it's here, it's on the Bloomberg Terminal.
LEARN MORE