Bio Tech General Isn't Stunted Yet
by
Bio-Technology General (BTGC) is still recovering from the one-two punch the Food & Drug Administration delivered early this year, knocking it from its 1998 high of 10 to 6 5/8. But not everyone is scared. Michael Petusky of Branch Cabell, a Richmond (Va.) investment firm, calls the stock "significantly undervalued given its growth potential." It trades at 9 times his 1999 profit estimate of 46 cents a share. His target: 11 1/2. Bio-Technology, among the few profitable biotechs, is expected to have revenues of $80 million this year, up from 1997's $65.3 million.
In January, the FDA deemed as "not approvable" AndroTab SL, a delivery system for testosterone, until Bio-Technology could provide more data. In February, the FDA asked for more data on OxSODrol, a product to prevent a lung disease in premature newborns.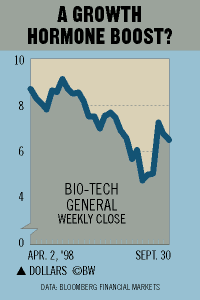 But Merrill Lynch analyst Paul Woodhouse in London isn't troubled by the setback. He calls the stock cheap and says his '98 and '99 estimates and his 5-year objective of 25% yearly growth "remain intact." He notes the huge success in Japan of Bio-Tropin, a growth-hormone product. Bio-Technology, which has five FDA-approved products sold globally, has made an agreement with Japan's Sumitomo to sell Bio-Tropin in Japan. The deal could push Bio-Technology's growth-hormone annual sales in Japan from $10 million to $30 million by 2000, says Allan Roness of JW Genesis Capital Markets in Boca Raton, Fla.
Another kicker: The company plans shortly to start marketing its FDA-approved BioLon, used as a lubricant in such ophthalmic procedures as cataract removals. BioLon could produce sales of $15 million in 1999, says Bio-Technology CEO Sim Fass.
Before it's here, it's on the Bloomberg Terminal.
LEARN MORE