Xomed Gets A Whiff Of Growth
by
Ear, nose, and throat. These are powering the upward drive of Xomed Surgical Products (XOMD), a little-known company whose stock zoomed from 26 a share in late March to nearly 38 on Sept. 22. The reason: Xomed is a pure play in the niche field of surgical tools for disorders affecting these parts of the head and neck.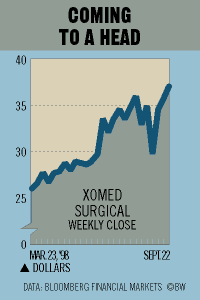 Despite the stock's huge rise, "Xomed is still very much undervalued," argues Sam Navarro at ING Baring Furman Selz, an investment firm. Xomed should hit 52 in a year or 18 months, he says. Earnings of Xo-med, which makes powered tissue-removal systems and other microendoscopy instruments--have been growing 25% a year. That rate should quicken to 35% over the next two years, says Navarro. He forecasts earnings of $1.11 a share for 1998 and $1.41 in 1999, vs. 1997's 82 cents.
Navarro thinks demand for Xomed's devices is being spurred by increased treatment (including cosmetic surgery) for head and neck problems, sinus and nasal ailments, chronic snoring and sleep disorders, and ear disorders.
Treatments are "evolving with new minimally invasive techniques never before provided," notes Navarro. He expects that Xomed will form partnerships with some drugmakers. Recently, Xomed signed a pact with Sofamore Danek for world marketing.
Before it's here, it's on the Bloomberg Terminal.
LEARN MORE