U.S.: A Triple Whammy Spells The End For Heady Expansion
Slumping global growth, profits, and markets mean sluggish times
by
The glory days of the 1990s business cycle are fading--fast. Say goodbye to those heady times of 4% growth and double-digit profit gains. Even consumer inflation has stopped falling. And amid an economic slowdown, productivity growth is a good bet to taper off as well. The way things are starting to add up, 1999 could be the toughest year yet for this 7 1/2-year expansion.
Much of the latest data confirms the new tone of the outlook. Housing remains strong but has probably peaked. The trade deficit is in a holding pattern but will likely worsen (chart). Most important, domestic demand, especially capital spending, is set to slow in the face of more restrictive financial conditions. The news is not a recipe for recession, mind you--at least not yet. Several indicators, including mortgage loan applications, nonauto retail buying, and jobless claims, continue to signal strength.
All in all, though, the data argue that growth is ready to slow, and it's more than just a one-quarter breather. This time, fundamental changes darken the outlook. The Big Three are slower global growth, more restrictive financial conditions, and a profits recession. They form a tough combination, the likes of which this economy hasn't faced in a long time.
Federal Reserve chairman Alan Greenspan acknowledged this dilemma when he spoke before the Senate Budget Committee on Sept. 23. Greenspan's appearance was significant since it came during the traditional "black-out" period, the week before a policy meeting when Fed officials do not speak publicly.
In his speech, Greenspan said again that the U.S. could not remain "an oasis of prosperity" amid global troubles. If anything, he said that, in just a few months time, the crisis has begun to restrain the U.S. economy and those effects "are likely to intensify." His speech seemed to signal his leaning toward an interest-rate cut at the Fed's policy meeting on Sept. 29.
A RATE CUT might not be that simple, however. Inflation hawks at the Fed will argue that even if gross domestic product growth slows to its noninflationary trend of 2 1/4%, that pace is still strong enough to keep labor markets tight and lift wage growth at a time when productivity is very likely to slow. So far, rising labor costs have had their biggest impact on profits, but a few businesses have been able to raise prices. Consumer prices for all goods and services rose 0.2% in August, the same gain as in July. The performance was the same for core prices, which exclude food and energy costs.
The hawks, though, will point out that, despite the hype over global deflation, core consumer inflation has actually risen slightly in recent months. Over the past year, total inflation is up 1.6%, while the core rate has picked up to 2.5%. Both rates are still tame, but annual core inflation is now the fastest in more than a year (chart).
On Capitol Hill, however, Greenspan made the case that, going forward, inflation will remain tame. He said that since the last Fed meeting on Aug. 18, "deteriorating foreign economies and their spillover to domestic markets have increased the possibility that the slowdown in the growth of the American economy will be more than sufficient to hold inflation in check." Nonetheless, Greenspan also acknowledged the Fed must remain alert to the inflationary consequences of labor shortages and rising compensation.
TIGHT LABOR MARKETS are not the Fed's only inflation concern. Policymakers also know that the current rapid deterioration in the U.S. trade position could eventually set up a reversal in the three-year, 25% surge of the trade-weighted dollar. The strong greenback has been the primary deflationary force in the U.S. inflation rate, because it has fostered the sharp drop in import prices. Interest-rate cuts by the Fed could trigger a steep decline in the dollar. Already, the trade-weighted dollar has declined by more than 5% in the past month just on hopes of a rate cut, so import prices may well stop falling this autumn.
The outlook for the trade gap, however, is not good. The trade deficit in July widened to $13.9 billion, from $13.6 billion in June. Exports shrank for the fourth consecutive month, dropping 1.3%, to $75.4 billion. Imports fell a smaller 0.8%, to $89.3 billion.
When measured as a three-month moving average, the trade gap has held at $14.5 billion since May. But more erosion is in the cards. First of all, nearly all of the recent stability comes from the import side of the trade ledger. Growth in imports from the Pacific Rim nations has slowed during 1998 despite their cheap currencies. The problem is that many of these economies are unable to get financing for their export operations. As soon as the money becomes available, import growth will pick up.
In addition, exports, hit by prospects for slower world growth, face a tough road ahead. Already, real merchandise exports in July were down 3.5% from a year earlier, and the decline so far this year is the worst since the 1981-1982 recession.
PART OF THE FEAR of a sudden weakening in the dollar stems from thE growing U.S. current-account deficit, the broadest measureof the country's international obligations that includes the widening trade gap as well as the increasing financial obligations to holders of U.S. debt. This deficit hit a record $56.5 billion in the second quarter. It now equals 2.7% of GDP, and it will very likely surpass 3% in coming quarters. At that level, the currency markets usually demand a correction in a country's external deficit via a weaker currency, similar to what happened in the U.S. in the mid-1980s, when the current-account gap hit 3 1/2% of GDP.
The trade picture is eroding so rapidly because U.S. domestic demand remains stronger than almost anywhere else in the world. Both businesses and consumers have contributed to that strength, but the poor outlook for profits, as well as a credit squeeze, suggests capital spending's vigor is starting to wane. Capital spending is the economy's most vulnerable sector right now. Consumers, however, still seem confident and flush enough to keep buying, although at a much slower pace than the first half's 6% gallop.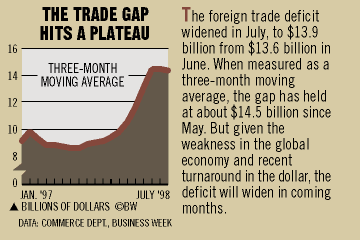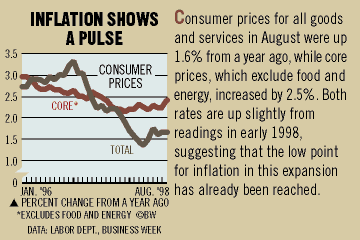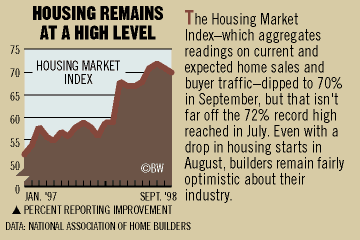 One area where consumer interest remains keen is housing. Mortgage applications for homes have surged 16% in the past four weeks, boosted by 30-year mortgage rates below 7%. Little wonder that home building will probably not fall back much from its recent highs. Housing starts fell 5.5% in August, to an annual rate of 1.61 million, but July's figure of 1.71 million starts was an 11-year high, and builders remain quite upbeat about their prospects (chart).
Like the housing index, many other readings on the economy remain just below their recent peaks. But the going will get tougher this fall and winter, when many businesses will have only their memories of better times to keep them warm.
Before it's here, it's on the Bloomberg Terminal.
LEARN MORE