Two Suitors For 3 Com?
by
Shares of 3Com (COMS) have been hot lately--in spite of the market slump. From a low of 23 on Aug. 31, the stock of the No.2 maker of computer-networking equipment has leaped--to 32 3/8 on Sept. 22. What's going on?
Investor optimism that an earnings turnaround is at hand is buoying the stock, to be sure. 3Com posted better-than-expected earnings for its first quarter, ended Aug. 28, following solid fiscal fourth-quarter results. The stock is worth
37 to 40 a share based on its earnings growth alone, figures money manager Tom Galvin at Forstmann-Leff Associates, a New York investment firm.
But bulls are buying for another reason: There is speculation 3Com may soon be acquired. For some weeks, rumors have swirled that both chipmaker Intel and telecom-gear giant Lucent Technologies are interested in 3Com, which produces modems, remote-access products, adapters, hubs, and switches for Ethernet and other high-speed networks. A New York hedge-fund manager who is accumulating 3Com thinks that either Intel or Lucent will acquire 3Com this year--and then will sell the parts it doesn't need.
He figures that 3Com, with a current market cap of $11 billion, is worth 50 a share, or $17.8 billion, in a buyout. This pro notes that Intel is on the prowl for an acquisition to get a bigger share of the PC market, possibly by providing devices that would enable users to do computer networking at home. To do that, he says, Intel needs to increase its role in network adapters, or network interface cards that allow desktop computers to connect to local area networks. Some analysts argue, however, that Intel may face antitrust issues if it goes after 3Com. That hasn't stopped certain hedge funds from buying 3Com shares on the prospects of a takeover.
3Com is the world's top supplier of Ethernet adapters, with 59% of the market for fast-Ethernet adapters. 3Com and Intel have been "battling in a price war to gain share in this segment," notes industry analyst Aydin Tuncer.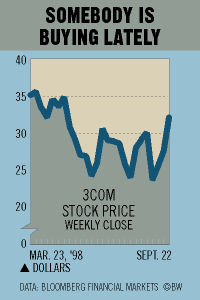 Lucent is also said to be looking for an acquisition to help it compete with rival Cisco Systems, the dominant router supplier, in the enterprise, or corporate and small-business, market.
"Lucent needs 3Com's line to fill the gap in its enterprise networking," says the New York investment manager. 3Com spokesman Bob Ingols said the company's strategy is to grow its markets, and it isn't looking to be acquired. "We do a lot of business with both Intel and Lucent," he adds. Lucent spokes-man Jeff Baum and Intel's Robert Manetta said they don't comment on takeover rumors as a matter of policy.
Before it's here, it's on the Bloomberg Terminal.
LEARN MORE