The Joys Of A More Open Economy...Have One Region Racing Ahead
Jaime Chicona, a La Paz plumber, wants to drum up business, so he bought a cellular phone eight months ago. To let everyone know of his accessibility, he's putting classified ads in daily newspapers. For Chicona, 29, the cell phone is a reasonable investment: $120 for the phone plus about $10 for a card that enables him to make and receive calls for three months. "It's great because it allows customers to contact me while I'm on the move," Chicona says.
Affordable cell-phone service is just one benefit of an opening economy. Bolivia, historically suspicious of both foreigners and free markets, is reaping the first fruits of an ambitious experiment. The national telecom company, ENTEL, was partially sold for $610 million to a group led by STET of Italy in 1996 as part of an innovative "capitalization" program. Also sold off were parts of the state-run oil company, electric utility, airline, and railroad, for a total of $1.6 billion. The buyers agreed to invest fresh money and management knowhow. They received 50% ownership plus operating control. Shares representing the other 50% were to be put into private pension funds for the Bolivian people.
In many ways, capitalization, the brainchild of former President Gonzalo Sanchez de Lozada, has been a success. Landlocked Bolivia, one of the hemisphere's poorest countries, with a per capita income of less than $1,000, has become less isolated. For example, the oil industry's new owners--including Amoco, Shell, and Enron--are stepping up exploration and boosting natural gas reserves, which should make Bolivia a key source of energy to neighboring Brazil. Meanwhile, ENTEL has upgraded the telecom system with a nationwide fiber-optic cable loop connecting regional capitals. Now, the countryside is dotted with solar-powered, microwave-transmission phone booths that allow phone-card-carrying peasants to make long-distance calls on the spot, rather than traveling to the nearest town. Before capitalization, the state-owned companies "lacked capital, funds, administration, and technology," says Sanchez de Lozada, who retired from office last year and now leads the Nationalist Revolutionary Movement, the main opposition party. Foreign direct investment has risen from $200 million in 1993 to $600 million in 1997.
But things haven't gone exactly as Sanchez de Lozada envisioned for the privately managed pension funds for every adult Bolivian. Sanchez planned to pay $250 a year to everyone over age 65. But current President Hugo Banzer Suarez has slashed the payment and will instead distribute shares in the privatized companies.
TINKERING. Bolivians are also learning that the private sector is by no means perfect. The former showpiece national airline, Lloyd Aereo Boliviano, sold to Brazilian carrier VASP, has been bombarded with complaints about deteriorating service and rising fares. Bowing to those disenchanted with capitalization, Banzer is on a small reform kick, tinkering, for example, with the oil exploration rules to make them less favorable to privatized companies. But foreign players seem content. Al Denson, president of Empresa Petrolera Chaco, one of the companies partially bought by Amoco Corp. in 1996, says that despite the uncertainty from the change in government, "we're very pleased with our investment commitment."
Sentiment about reform varies from one region to another. Many in the western highlands, where the state has long dominated the economy, believe it still should, but the people in the eastern region of Santa Cruz embrace entrepreneurship. Santa Cruz's economy has grown at 7% a year since the early 1990s, compared with 4% for the country as a whole. In recent years, its farmers have diversified from sugar and cotton to sunflower, wheat, soy, and sorghum. The fertile land has attracted investors from Brazil, Paraguay, and Argentina.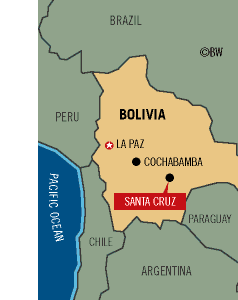 But the biggest growth will surely come from the oil and gas sector. A pipeline running from Santa Cruz to Sao Paulo in Brazil is to be completed in early 1999. Meanwhile, the capitalized energy companies are racing to export electricity to Brazil from power plants in Bolivia powered by plentiful natural gas. The companies eventually plan to spend more than $1 billion in the Santa Cruz region, and even more investment will arrive in coming months as the government awards natural gas exploration licenses. Indeed, as Percy Anez, general manager of Banco Mercantil in Santa Cruz, puts it, the region is set to be the "main development motor" of the nation for years to come.
Before it's here, it's on the Bloomberg Terminal.
LEARN MORE