Renault Is Roaring But Is That Enough?
The revved-up carmaker may still be too small to go it alone
Gail Edmondson and Karen Lowry Miller
When the Paris auto show opens on Oct. 1, Renault executives will be strutting. After years of being written off as the weakest of Europe's big carmakers, the $37 billion French giant is enjoying a turnaround. Profits soared 165% in the first half, to $786 million, and market share is rising as new models lure buyers from rivals such as Ford Motor Co. and Opel. And for the first time in 15 years, a Renault model, the Megane, ranks as the best-selling car in Europe. "On the product side, Renault has gotten it right," says Arthur Maher of J.D. Power-LMC Automotive Forecasting Services in Oxford.
Chief Executive Louis Schweitzer, 55, has quietly transformed a company that many viewed as a quality laggard whose survival was due mainly to protected markets and heavy state subsidies. Under Schweitzer, who took charge in 1992, Renault is starting to look more like a scrappy competitor. Development cycles have shrunk, quality is up, and prices have come down. Sales in Western Europe rose 17.7% in the first half, compared with a 7.7% industry average. And with an operating margin of 4.8%, Renault is one of Europe's most profitable auto makers. "Schweitzer has done an excellent job," says Jurgen Hubbert, a Daimler Benz management board member.
Schweitzer is betting that product innovation, further cost reductions, and expansion in emerging markets will solve Renault's remaining strategic problems and ensure its independence well into the next century. "You don't have to be among the largest as long as you grow profitably," he insists.
Successful models such as the Megane Scenic, a $19,000 compact minivan launched in 1997 that should sell 300,000 units this year, give Renault critical economies of scale. Analysts expect unit sales of the Megane family, powered by the Scenic, to top 600,000 this year. Thanks to these models, Renault has seen its European market share edge up a full percentage point over the past year, to 10.5%. Although it ranks No.6 among Europe's big six auto makers, it is closing the gap behind No.5 Ford.
Global growth poses the toughest challenge for Schweitzer, especially if recession sets in throughout Latin America and if Russia and Asia continue to suffer. Yet although the world's emerging markets are sour now, industry experts agree that, given the overcapacity in Europe, Renault has little choice for the long term but to seek growth elsewhere. Schweitzer's goal is to double production--from 2 million automobiles this year to 4 million by 2010--with most of that growth in Latin America, Eastern Europe, Turkey, China, and Russia. A new $892 million factory in Brazil with total capacity of 120,000 vehicles will start production in December and is expected to produce 30,000 Megane models in 1999.
Despite the global market turmoil, Schweitzer believes Brazil and Argentina will rebound, and he has designed modular factories that can double capacity quickly when demand picks up. "We believe the fundamentals in those markets are good," says Schweitzer.
HOME BODIES. To boost sales during the next decade in emerging markets, Schweitzer is eager to acquire an entry-level brand similar to Volkswagen's acquisitions of SEAT in Spain and Skoda in the Czech Republic. Renault has stated an interest in acquiring Dacia, the Romanian carmaker set to be privatized. Renault is also boosting output at plants in Slovenia and Turkey.
The company's new push into emerging markets is necessary in part because it remains overdependent on France, where Renault generates 39.4% of its sales. Only 15% of the company's revenues come from outside Europe. And hordes of competitors are readying models to compete with the Scenic. "Renault is innovative, but it doesn't have the economies of scale of Fiat or Volkswagen," says Garel Rhys, professor of motor economics at the University of Wales at Cardiff. If the sales in the French or Spanish markets spiral down, Renault's market share could dip again below 10%. That makes some observers doubtful the company can survive without a merger, perhaps with a Japanese company such as Mitsubishi Motor Co.
AMONG THE LEAN. Renault's makeover is hardly complete. Since the French government still holds a 44% stake, restructuring has been a tough slog. Last year, Schweitzer shuttered a plant at Vilvoorde, Belgium, but not without suffering from strikes, legal actions, and high severance costs. In 1997, he launched a cost-cutting program aimed at slashing $3.6 billion a year by 2000--a sum he says will put Renault on a par with the leanest carmakers. Schweitzer still needs to reduce the number of different production platforms from six to three, an overdue transition that will help lower costs but will be phased in only over the next six years.
Schweitzer admits that the competition is only going to get tougher as Asian auto makers ramp up production in Europe. At the end of 1999, European quotas on imports of Japanese cars will be lifted. Honda Motor Co. and Toyota Motor Corp. are both adding production within Europe. Toyota aims to produce 200,000 minicars at a new plant in Valenciennes, France. Industry experts forecast that the Japanese will boost their share of the European market from 12% today to 15% or more after 2000.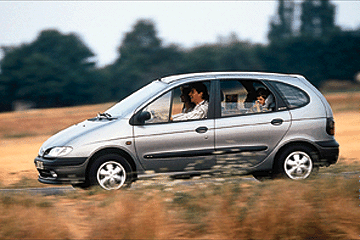 To prepare for the onslaught, says Schweitzer, "we have to be as efficient as the Japanese--and add our knack for innovation." This year, Renault opened a new technology center outside Paris, designed to help speed product development and lower engineering costs. By 2001, Schweitzer aims to cut order-to-delivery time for custom-built cars from eight weeks to two.
Schweitzer knows the main purpose of setting such targets is to defend Renault's existing 10% share of the European market. As Renault marks its 100th anniversary this year, it has plenty to celebrate. But management can hardly afford to take its foot off the accelerator now.
Before it's here, it's on the Bloomberg Terminal.
LEARN MORE