Oh, Do I Love My I Mac
Is Steve Jobs's hip hit the start of something big at Apple?
by
The eye-catching iMac is reviving a feeling that Apple Computer has not been able to spark in years: love between consumer and computer. In Princeton, N.J., a dozen kids stormed the home of Diane and Bobby Landis Hackett to gawk at the blue, curvy machine. In Laguna Niguel, Calif., 9-year-old Elias Isquith adores his iMac, in part because "it reminds him of the aliens in Independence Day," says his mom, Natalie. In Amherst, Mass., 55-year-old music professor Estela K. Olevsky--a self-described computer hater--succumbed. "I liked the look of it, and I'm pleased because it's not cluttering up my desk."
The clutter, for a change, is in the aisles of your local Macintosh dealer. Although it only hit the stores in mid-month, the $1,300 iMac was the No.2 best-selling computer in the U.S. for August, after a Hewlett-Packard model, driving Apple's U.S. retail market share from 6.8% in July to 13.5%, says market researcher PC Data. "We sold more iMacs in a short amount of time than any computer we've ever sold," says Harold F. Compton, chief operating officer of CompUSA Stores Inc.
And it's not just hard-core Apple lovers that are buying. More than 15% of iMac buyers are first-time PC owners, and an additional 12% were converts from "Wintel" models based on Microsoft's Windows, according to ComputerWare, a West Coast chain.
This being Apple, the next question is whether interim CEO Steven P. Jobs can sustain the iMac momentum while keeping other parts of the business on the comeback trail. After weeks of shortages, Apple is now catching up with brisk demand for a new PowerBook laptop, and Jobs is expected to unveil a cheaper portable next spring.
How will iMac fare once the novelty fades? "This computer is a fashion statement right now, but those things wear off," says Oppenheimer Securities analyst James D. Poyner. "If Apple intends to sell lots of machines based on how they look, that's a pretty tenuous story." The iMac has to hold its own in a market of sub-$1,000 (and falling) PCs. And Korean-based E-Machines has announced plans to sell an iMac look-alike for less than $600, say analysts.
Apple would not comment for this article, but its suppliers and dealers tell BUSINESS WEEK that the company plans to build as many as 1 million iMacs by the end of the year--double many analysts' estimates. Analysts figure Apple could sell 750,000 iMacs in the fourth quarter, after moving 250,000 this quarter, and the company may show growth in the Christmas quarter for the first time since 1996.
PRINTING GLITCH. That would be a much needed boost for Apple. Revenues are expected to shrink by 17%, to $5.9 billion, in the year that ends Sept. 30, and the company continues to lose share in the education and corporate markets. While Apple's dismal record on operations has improved, more must be done. Already, one high-end Mac was tabled, and slow PowerBook production caused shortages. And a software bug in the iMac, discovered after the Aug. 15 launch, delayed shipment of peripherals and an adapter kit for Hewlett-Packard Co. printers.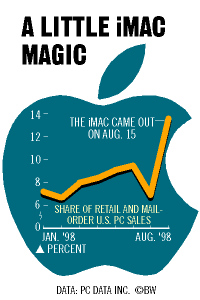 Such glitches are annoying to consumers. Dr. Deborah Kubasiak, a Chicago surgeon who replaced her aging Mac with an iMac, grouses about her inability to print: "I thought Apple was coming back and I was going to be part of the wave....They didn't need this."
Still, the iMac is winning plenty of new fans. Take James Dale Sherry of Walnut Creek, Calif. He put off buying a PC for years. After seeing the iMac early this summer, though, he took the plunge--and bought Apple stock to boot. Now, he's a happy customer and a happy investor: Apple's stock stands at around $37, up from $14 last December. "I've made a few hundred dollars," says Sherry. "I think it's cuter now than it was when I bought it." Greater flattery a computer cannot hope for.
Before it's here, it's on the Bloomberg Terminal.
LEARN MORE