On a recent weekend at the Hod Hotel in Tiberias, marriage counselor Tchiya Raz, 50, her husband, and about 20 other Israeli couples sat in a circle. "We created energy. We hugged and breathed together," says Raz. It was all part of a workshop on Tantra, an ancient Eastern body/mind philosophy. "Tantra means to weave," she explains. "They say whatever you do in your life affects you in many ways. It's all woven together."
Raz is exactly the kind of clientele the newly renovated Hod Hotel is looking for. Located in the hills above the Sea of Galilee, it advertises itself as "a hotel with a different spirit." The hotel offers workshops dedicated to spirituality--meditation one weekend, communication therapy another. The ceilings and walls are hung with swathes of sheer fabric and batik prints, and the lobby is wreathed in tinkling music and burning oils. The idea for transforming the 68-room Hod Hotel--and before long its 200-room sister hotel on the Dead Sea--into a New Age weekend retreat is the brainchild of the company's advertising agency, Malik. People such as Tel Aviv builder Erez Lustig, 65, spend $200 a night per couple to find a little spirituality. "In the past, I was suspicious of all these kinds of things. Now, my attitude is if it doesn't hurt you, why not try," says Lustig, who participated in the Tantra weekend with his girlfriend.
These days, Israelis of all ages agree. Some find it ironic that a nation known for being aggressive and hard-boiled is seeking its softer side. But it is. Evidence of the New Age can be found all over: in Jerusalem crystal shops, at Tel Aviv healing institutes offering consciousness training, at kibbutzim in the Galilee holding meditation workshops. The movement, advocates say, is fueled by increasing dissatisfaction with modern Israeli life. The peace process is stalled, religious and secular camps are constantly at war, and the economy is in the doldrums. "We are tired of all the conflicts," says 22-year-old Asher Friedman, a veteran of the Israeli Air Force who teaches meditation near Tel Aviv. "Fewer things are obvious, so Israelis are asking more questions today than before."
For many of its aficionados, the movement is an alternative to the Orthodox Judaism that dominates the religious and often political life of the country. Many secular Israelis feel uncomfortable with the Orthodox Establishment and seek ways to fill the need for "something more." Many ignore Judaism altogether, some take pieces from it, and still others try to reinvent it. At the Amirai Hagalil retreat center in northern Israel, workshops and Sabbath dinners deal with everything from Sufism to Buddhism. "It's not Judaism," says ponytailed co-owner Miki Agam, 33. "You can't say it with a name. But we love God."
"OTHER FLAVORS." Agam and his two partners, like many Israelis, acquired an interest in things spiritual while traveling in Asia. India, especially, has become a major pilgrimage site for thousands each year, particularly after they complete their compulsory army service. Many spend six months or a year in post-service travels; others spend longer. Amirai Hagalil co-owner Moshe Gan Yesh, 32, spent seven years living with Aborigines in Australia. "Traveling, you see that the things we were taught to believe in--God, army, country--are not the only way," says Gan Yesh as he lies under a canopy on a Galilee mountaintop, unconcerned with the daily struggles of Israeli life. "You see, there are other flavors to taste."
As the New Age finds its voice in Israel, it's also finding business niches. Amirai Hagalil is expanding--more rooms, more workshops--and the production company it partly owns is busy promoting Sheva, a New Age band that has become a mainstream success. Its privately produced first album--"all the sounds are dedicated to inner peace," say the liner notes--has sold 7,000 copies, a remarkable number in a country where 20,000 albums sold equals a gold record. Now, the group is on its first U.S. tour, playing 10 dates across the country.
Israel's New Age publishing industry is thriving. Book publishers are translating hundreds of titles into Hebrew. Everyone from middle-aged housewives to heavily pierced teenagers frequent Small World, an alternative bookstore in Jerusalem. The country's first New Age magazine, Alternative Living, was launched two years ago. Healing institutes flourish. Some 10,000 Israelis are enrolled. Workshops sprout up everywhere, many renting space in kibbutzim. Even Israel's financially strapped health maintenance organizations have gotten into the game, paying for alternative treatments such as reflexology and shiatsu massage.
TOUCH TIME. Israeli New Agers say that, by and large, the Orthodox religious Establishment has not criticized or confronted them, as it has the less rigorous Judaisms--namely, the Reform and Conservative movements. Yakar, a progressive Orthodox synagogue in Jerusalem that offers meditation, has practiced its nontraditional methods with no harassment from religious authorities. In some ways, New Age practice appeals to religious Jews, according to Sally Reidman, a Los Angeles native who runs an alternative medicine institute in Israel. Her workshops on massage and other body-oriented therapies attract even ultra-Orthodox participants, who simply work behind the privacy of screens. "Everyone gets along beautifully," says Reidman. "When people touch people, barriers dissolve."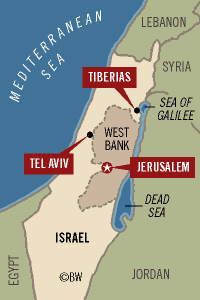 For the more cynical Israeli, New Age philosophy remains a superficial escapism. "It's one-cent psychology," says Richard Milecki of Kibbutz Tuval, which rents workshop facilities to New Age groups. Milecki, who gets to see the New Age movement up close without subscribing to it, does understand its attraction for Israelis: "Here, people need spirituality to keep them sane."
But it's clearly still not for everyone. At the Hod Hotel's Tantra workshop, three couples were embarrassed by the public touching and left the room. "It must be done slowly," cautions Raz, who has started using Tantra in her marriage counseling. "Opening yourself to other people takes time."
Before it's here, it's on the Bloomberg Terminal.
LEARN MORE