Europe: For The Euro, A Difficult Debut
Just as the Jan. 1 launch of the euro nears, the 11 member economies are bracing for a slowdown that could threaten their two-year recovery. With global turmoil expected to hit exports, economists have downgraded 1999 forecasts.
Developing countries take about 40% of the European Union's exports, and they have accounted for a big chunk of export growth, say economists at Morgan Stanley Dean Witter, who cut their 1999 euro-area growth forecast from 2.7% to 2.2%. But it's not just Asia and Eastern Europe. Demand in Britain, which takes 20% of the Continent's exports, is flagging, and the huge U.S. market will deteriorate. Moreover, the euro's estimated value has already risen 5% this year, due to weaker emerging-market currencies. With the dollar slipping, the euro's competitiveness will dip further.
The key word in the outlook, though, is slowdown, not stop. Euro-area growth is shifting toward domestic demand, and consumer spending should remain resilient. Clearly, slower growth will wipe out any prospect of cutting the region's 11% jobless rate. But low inflation will support real incomes, and cheap interest rates will boost housing and related businesses. The sector expected to be slammed hardest is business investment, especially in manufacturing, where weaker exports will hammer output and profits.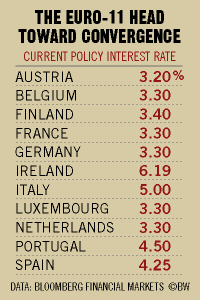 The betting is that the European Central Bank will establish the euro-zone interest rate at the current Bundesbank repo rate of 3.3% (table). Spain and Italy are the best positioned for growth in 1999, with Spain already showing considerable momentum. Both will benefit from the rate cuts required for convergence. Germany and France are likely to see growth suffer the most. Germany will take a double hit from eastern Europe, given its export ties and loan exposure. The fortunes of France and Germany will set the tone for euro-land, since the two are responsible for some 55% of the area's output.
Before it's here, it's on the Bloomberg Terminal.
LEARN MORE