Checking The Fall At Ivi Checkmate
by
This year's slide at IVI Checkmate (CMIV) is just one example of small-cap stocks that have been battered. From nearly 7 in June, shares of this provider of electronic payments slumped to 4 3/8 by Sept. 22. Obviously, a massive rush for the exits took place. But not everyone has given up.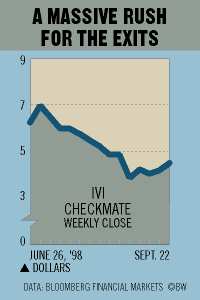 Some believe IVI Checkmate will be a winner--thanks in part to interest from Ingenico. This French company owns 9% of IVI Checkmate, with the right to raise its stake to 15%. Some think Ingenico will add to its holdings--maybe beyond 15%. Chairman Jean-Jacques Poutrel says Ingenico intends to make a "very important" acquisition to boost Ingenico's "position in several countries." Some investors think IVI Checkmate is the target. IVI Checkmate CEO Barry Thomson acted swiftly to put a poison pill in place. Meanwhile, France's Groupe Bull is said to be poised to buy a stake in Ingenico.
Steve Shook of investment firm Interstate/Johnson Lane in Charlotte, N.C., has put out a strong buy rating on IVI Checkmate, which was formed in June, when Checkmate Electronics and Canada's International Verifact merged. Its products include point-of-sale check readers, signature-capturing devices, and electronic processing equipment. Shook's target for the stock: 11 a share.
Before it's here, it's on the Bloomberg Terminal.
LEARN MORE