Will Citigroup's Parade Get Rained Out?
Sandy Weill says no, but the Travelers-Citibank deal is making the market nervous
Leah Nathans Spiro and Gary Silverman
To see Sanford I. Weill, you wouldn't know the biggest deal of his career is coming under fierce attack by the market. The chief executive of Travelers Corp. seemed relaxed and enthusiastic on Sept. 15 as he described a "sleepover" he and John S. Reed, Citicorp's CEO, hosted the night before at Travelers' conference center in pastoral Armonk, N.Y. It was a get-acquainted gathering for the 14 men and 2 women who have been chosen as board members of Citigroup, the company to be formed by the combination of Travelers and Citicorp.
As soon as the board members left after lunch, Weill prepared for the next group: Four Travelers and three Citicorp senior managers slated to run Citigroup, who were gathering for dinner along with their wives at the conference center that evening. "There is no chance that the Citicorp Travelers deal is going to fall through because of the doings of anybody at Citicorp or anybody at Travelers," says Weill. "We're ready for full steam ahead when the Fed says we can go full steam ahead," he says, referring to Travelers' pending application with the Federal Reserve Board to acquire Citicorp.
Weill, a veteran dealmaker, doesn't sound like a man who might walk away from a deal, which was one of the rumors buzzing through the market. Yet much of the euphoria that accompanied Citigroup's announcement on Apr. 6 has turned to near panic. Along with the rest of the financial-services sector, Travelers and Citi stock have taken a bath, driving Travelers down from 73 to 43, and Citicorp from 180.87 to 103.
On Sept. 10, a share of Citicorp was trading for $10 less than 2 1/2 shares of Travelers, which is what Citi shareholders will get when the deal closes. (Travelers stockholders just keep their shares.) This gap, which has since diminished, reflected the belief that the deal might not get done (chart, page 112). "There has been huge trading based on rumors the deal was on the rocks," says Diane B. Glossman, banking analyst at Lehman Brothers. "I've gotten more calls from arbitrageurs in the last few days than I have had in many years."
SUBMERGING MARKETS. Another factor spooking the market is that Fed approval for the deal, which Weill originally said was to have come by Labor Day, has been delayed. Now, Weill says he hopes the O.K. will come by early October.
The fundamental question underlying the market jitters is whether the megadeal still makes sense. After all, Weill is taking on Citi's huge emerging-market exposure at a time when a scary number of these markets are in meltdown mode. "The worse things get in emerging markets, the more it seems like Travelers isn't getting a good deal by merging with Citi," says James K. Schmidt, a portfolio manager at John Hancock Financial Industries Fund, which holds stock in both companies. However, Schmidt says it would take an absolute collapse in Latin America to give Weill cause to pull out. "If Brazil becomes Russia, that's a reason. To me that would be a material unforeseen circumstance," says Schmidt.
Weill brushes off his critics. "I think that what's going on now more than validates what we did then," he says. He points out that Standard & Poor's Corp. and Moody's Investors Service have just affirmed or upgraded Travelers and Citicorp units. The deal's logic still stands, he says. Once the largely domestic Travelers bought the more international Salomon Inc. in 1997, he realized the combined firm was still too small. "I said, we're global, but we should be much more diversified, and we should be much stronger. And who the heck is the best company to go and talk to that can withstand the vicious cycles" in international markets, says Weill.
INSTANT APPROVAL. As for Travelers backing out of the deal, forget about it. "I've never, ever thought of going back on a handshake or my word," says Weill. "When you do, you're never going to be able to do the next deal." That means Citi and the Fed are the only two potential dealbreakers. Reed said on Sept. 1 the merger is "absolutely on track," and Citi has already cut 50 employees made redundant by the deal. While the Fed won't comment, the betting on the Hill is that the Fed will "lean over backwards to approve this deal," says one lobbyist. Alan Greenspan is a longstanding supporter of financial-services deregulation. The Fed may be waiting to see if Congress acts on the financial-services reform bill before Congress' scheduled adjournment on Oct. 9. And the Fed may want to appear to deliberate about such a major merger "even if they were ready to approve this deal five minutes after it was proposed," says the same lobbyist.
Any Washington subtlety may have been lost on New York traders. The gap widened between the value of Citi shares vs. Travelers shares. According to one institutional investor, when the Tellabs-Ciena started collapsing the week of Sept. 7, many arbs faced margin calls. Since arbs were short Travelers and long Citicorp, they sold their Citi, because in a down market they usually keep their short positions and sell their long positions. The gap has since narrowed. Says one institutional investor: "You have a lot of margin pressure on the arbs who have to liquidate positions. And the rumors picked up because it was taking a lot longer to get regulatory approval than people thought, including the management of the company."
Longer range, the market reflects the turmoil in emerging markets. Of Citi's core business income last year, 56% was in emerging markets and 44% in the U.S. and other developed countries. "The golden attraction of CitIcorp long-term was you have these huge masses of customers in the emerging markets, and the Citi brand is one of the few brands recognized around the world," says Howard F. Ward, portfolio manager of the Gabelli Growth Fund. But he has near-term qualms. "As bad as things currently are in some emerging markets, things may deteriorate further," Ward says. He bought 100,000 shares of Citi at an average price of $48 and sold when it fell to $140 in early August.
What could torpedo the deal? A substantial undisclosed credit problem at Travelers or Citi, speculates one banker. One fear is that Citicorp's emerging-market losses could amount to more than the $200 million in third-quarter Russian losses already announced. Unlike losses in Russian securities, which are quickly marked to market, hits in Asia and Latin America would probably involve loans that could take a long time to turn sour. "Credit problems, losses, come with a big lag," says Tanya Azarchs, bank analyst at Standard & Poor's Rating Service. "We have not seen the end of the Asian problem. We have only seen the beginning. It will take us nine months to see the beginning of Latin American problems even if Brazil tAnks tomorrow."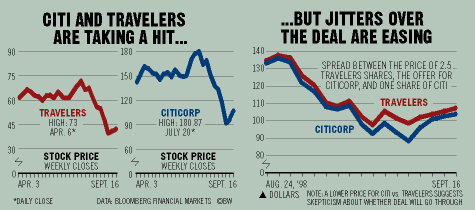 Ironically, Weill's pain may be Reed's gain. For Citicorp, the deal could reduce its dependence on profits from the developing world. "To some degree, John Reed hedged his emerging-markets exposure by joining with Travelers," says Charles Peabody, an analyst with Mitchell Securities. "If the financial markets continue to penalize Sandy Weill for this exposure via Citicorp, I have to believe there will be a shareholder revolt questioning if this is the right thing to do." Adds Schmidt: "If we knew then what we know now, the share exchange ratio might have been a little more favorable to Travelers."
Yet most analysts, investors, and bankers are convinced the deal is solid and that Citigroup still makes sense. Says Raphael Soifer, bank analyst at Brown Brothers Harriman: "I don't know why anyone in his right mind would assume this deal is not going to happen." Weill has given his word. And don't forget the chummy slumber party.
Before it's here, it's on the Bloomberg Terminal.
LEARN MORE