Rei Ts In The Rough
They're short of cash for deals as investors eschew their stocks
Kathleen Morris and Stephanie Anderson Forest
For years, the smart money was with Richard E. Rainwater. Mesmerizing Wall Street with his plan to turn his huge portfolio of Texas office buildings into a growth company, the Fort Worth dealmaker raised more than $2 billion between 1994 and 1997 to acquire properties. But since July, the real estate investment trust Rainwater controls, Crescent Real Estate Equities Inc., has canceled three deals, including a $465 million portfolio of office towers from Prudential Insurance and the $1.5 billion purchase of Station Casinos Inc.
These are not grand times for real estate investment trusts. Less than a year after Wall Street was throwing money at REITs, eager to take advantage of their exemption from corporate taxes, money is fast drying up for REIT operators such as Sam Zell, Barry Sternlicht, and Mortimer Zuckerman. Morgan Stanley's REIT index has fallen 24% since January--compared with a flat performance for the Standard & Poor's 500-stock index--helping to torpedo deals. "Explain this to me," complains Zuckerman, chairman of Boston Properties Inc., among the nation's largest office REITs. "We have the best results in our history over the last six months, and my stock is at 26," he says, 27% off its high.
What's wrong? After three years of buying undervalued assets, REITs have driven up acquisition prices to levels that started to worry their investors. In many suburban markets, the prices REITs were paying for office properties were as much as the cost of putting up new buildings. Initial rates of return REITs were getting on new acquisitions fell to 7% to 8% last spring from 10% to 11% two years earlier. And as REITs--and private entrepreneurs--began plowing money into constructing buildings, investors fled, feariNg a real estate glut was fast approaching.
"It's the cLosest thing to yelling `fire' in a theater that I have ever seen," says Roy H. March, president of Eastdil Realty, a big property broker. The prices of REIT stocks are now trading an average of 10% below their breakup value, forcing many to contemplate huge stock buybacks instead of acquisitions. "No one can issue stock for deals," says Sam Zell, who did more than $10 billion in deals last year and built the country's largest office REIT. A $990 million merger between two hotel REITs, Equity Inns and RFS, fell apart in September. Many industry watchers predict several of the REITs could be bought out by private investors.
Instead of deals, the pressure is on REITs to squeeze profits out of the assets they currently own. After buying both Westin and ITT Sheraton in 1997, Barry Sternlicht must now prove he can run the world's biggest hotel company. With his tax advantaged paired REIT structure legislated away, Sternlicht has reformulated his company as a taxable entity and announced a $1 billion buyback to boost its stock, now 50% below 1997 highs. "Now we are going to see who are the asset collectors and who are the real companies," says Cydney Donnell, portfolio manager at European Investors Inc.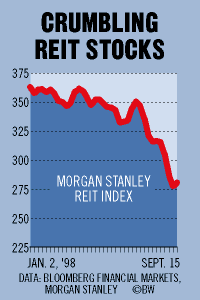 WAILING SIRENS. Ironically, most REITs are in strong financial shape. Rent increases are expected to boost average REIT cash flows by 16% in 1998 and 11% in 1999, says real estate research firm Green Street Advisors. And as deals go un- done, asset prices have already fallen at least 5%, says Green Street's Mike Kirby. With big issuers of commercial mortgages now sharply cutting back new lending, private developers will have a harder time getting financing as well. That should ease investor fears about a flood of new construction. "In past cycles, when there were few public companies, there was no siren wailing until we were swamped by oversupply," says Security Capital strategist Ken Statz. "The punch bowl has been taken away from this party way early."
How long the big REITs will be closed out of the buying game is unclear. Even now, many are negotiating with pension funds and private buyout funds about jointly financing deals. As the real estate market begins to cool, prices will again look attractive. But for Richard Rainwater, Sam Zell, and the REIT club, the days of easy money seem over--at least for now.