business
Reheating Starbucks
Growth is tepid. Will restaurants, supermarket sales, and a push overseas brighten the bottom line?
Seanna Browder
It was a busy week for Starbucks Chief Executive Officer Howard Schultz. First, the company unveiled a new, lighter blend of coffee. Then, he heralded the Seattle opening of Cafe Starbucks, the coffee company's first full-fledged restaurant. Two days later, Schultz flew to London for the Sept. 17 premiere of Starbucks in Europe.
Quite a pace for a guy who made a fortune advising people to take a coffee break. But the 45-year-old Schultz is on a mission: He's out to prove there is still some zing left in those beans, as Starbucks Coffee Co. evolves from a high-flying startup to a maturing company with more level growth. With the buzz over lattes waning, Starbucks is brewing new ventures in restaurants and supermarkets to perk up sales. It is also searching for the next big hit with drinks such as Tiazzi, an icy concoction of tea and juice.
The company that made espresso a daily habit finds itself at a crossroads. Schultz argues that its new investments in brand extension are necessary if Starbucks is to maintain an impressive growth pace in the coming years. "We have to keep pushing the envelope and reinventing ourselves," he says. But in the near term, the moves are raising questions about how far the chain can stray from its coffeehouse roots without losing its way.
Investors have come to expect a lot from Schultz and his team--and they weren't shy about expressing their disappointment when management stumbled this summer. Starbucks' stock price has plunged about 50% since early July, as the company announced lackluster 2% growth in same-store sales for July and nudged analysts' predictions toward the lower end of 1999 earnings estimates. The company has told analysts to expect earnings to grow 30% to 35% for the next several years. That's not bad--unless you've been delivering 42% earnings growth, as Starbucks has on average for the past four years. Wall Street expects earnings of $82 million on revenues of $1.3 billion for fiscal 1998, which ends on Sept. 27, according to Zacks Research.
The slowdown in comparable-store sales gives investors the jitters because Starbucks' retail stores provide 85% of the company's revenues. From its start in 1971 as a small whole-bean store in Seattle, Starbucks has grown to 1,800 outlets and continues to open a store a day. The company admits that it cannibalizes 30% of its own store sales by opening shops near each other, with the trade-off being that it saves money on marketing and distribution costs through clustering.
To stay ahead of mounting competition, ranging from Dunkin' Donuts to smaller chains such as Tully's Coffee in Seattle and Coffee Station in New York City, Starbucks has relied on a string of new hit products. Last year, the star was Frappuccino, a cold-blended drink that helped boost July, 1997, same-store sales by 7%. The chain hoped to follow up this summer with Tiazzi, a blend of tea and juice. But Starbucks kept tinkering with the recipe and didn't get the mixture to stores until July 12. Tiazzi appears to be catching on--August store sales grew 3%, two-thirds of it from Tiazzi. But sales growth is clearly slowing down.
BEAN COUNTING. That's why Starbucks is reaching out to grocery stores and restaurants. Its initial forays onto supermarket shelves--with bottled Frappuccino, a joint venture with PepsiCo Inc., and coffee ice cream, in a deal with Dreyers Grand Ice Cream Inc.--have been hits. And Schultz is relying on the strong Starbucks brand image to give it a leg up in the coffee aisle, where 60% of all java is sold.
Shoppers don't get a price break on a 12-ounce package of Starbucks beans--the supermarket price is comparable to what you pay at a corner Starbucks store. But even with that premium over volume-brands like Maxwell House and Folgers, analysts question whether Starbucks can maintain its traditional 6% profit margins after paying supermarkets for shelf space and brokers for distribution. Starbucks executives insist they can compensate by shifting other costs, such as shipping and marketing, to the grocery stores and brokers. And they're not worried about the supermarkets siphoning away coffee-store business. A trial last winter in Chicago proved most people went to Starbucks for a quick jolt and didn't like hauling a bag of beans back to work.
The return on Starbucks' restaurant venture is less certain. Starbucks opened its first Cafe Starbucks to capacity crowds on Sept. 11. Another three restaurants are planned in Seattle by the end of the year. The concept is an attempt to stretch Starbucks' business further into the evening. Right now, 85% of business is completed by 3 p.m. If the restaurants are successful, look for a nationwide rollout. However, offering hot meals, full service, and a bar with coffee liqueur drinks is more complex and costly than pulling a shot of espresso. "It makes me nervous," says Harvey G. Bateman, principal portfolio manager for Sirach Capital Management Inc., which trimmed its Starbucks holdings from 1 million to 700,000 shares in August. "It defies the simplicity of the Starbucks model."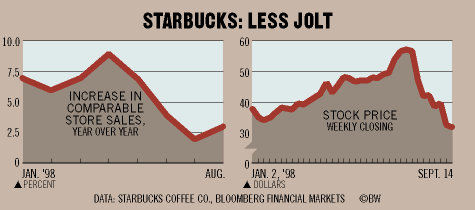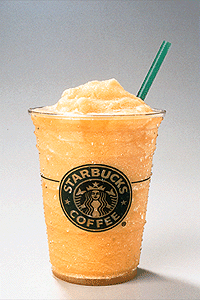 Meanwhile, Schultz plans to go even farther afield. He talks of opening 500 stores in Europe and Asia over the next five years. Already, lines go out the door at the 23 existing Starbucks in Tokyo, despite Japan's recession. In fact, the depressed Asian economy is offering Starbucks great real estate deals. In Europe, meanwhile, Starbucks snatched up London-based Seattle Coffee Co. for 1.8 million newly issued shares worth $84.5 million. The acquisition diluted earnings by 5% in fiscal 1998 but the 61-store British chain gives Starbucks a base from which to expand to the Continent. The overseas expansion will certainly be pricey. Still, Mitchell J. Speiser, analyst at Lehman Brothers, thinks foreign operations could contribute 25% of Starbucks' total earnings within five years.
Of course, there's no saying how premium-coffee sales will hold up if the world economy falls off a cliff. But then, who would have guessed 10 years ago that people would be lining up to pay $2 for a cup of joe?
— With assistance by Emily Thornton
Before it's here, it's on the Bloomberg Terminal.
LEARN MORE