On The Trail Of Lewis And Clark
Whew! I'm scrambling along the Missouri River's steep bank with a rope, pulling a 16-foot boat upstream toward Wolf Point, Mont. My partner, standing in the boat, pushes with an oar against the bank to keep the prow from grounding. It's the same labor-intensive technique, called "cordelling," that Meriwether Lewis, William Clark, and the Corps of Discovery used on the arduous journey that took them past this spot in May, 1805.
Happily, the similarities end there. Eight days into a 2,100-mile, 33-day expedition from Great Falls, Mont., to St. Louis, Bob Torgerson and I are in this predicament because the starter rope of our 15-horsepower outboard snapped as we pushed off from our overnight camp a mile below Wolf Point, a town on the Fort Peck Indian Reservation. Wading, poling, and cordelling, we make it back to town and find a pair of good samaritans with tools and a cell phone. Bryan Krumwiede, a sports store owner, and Dustin White, a technician at the municipal water treatment plant, get the motor working with the help of socket wrenches brought by a fellow worker in a pickup in response to White's cell-phone appeal. Technology has changed since Lewis' and Clark's epic journey, but it's still impossible to travel for any distance on the river without sloshing in it, as they did.
The roots of this expedition go back a long way. Nearly 60 years ago, Bob and I camped and canoed in Minnesota, where we grew up. I haven't pitched many tents since then, though Bob, who lives in Washington state, has fished and hunted across the West. Still, when he proposed a trip down the Missouri, I replied: "Let's do it, before we get too old." Bob is 74; I'll be 74 in October.
GOLDEN BLUFFS. In the nearly two centuries since Lewis and Clark made their trip, dams have converted much of the Missouri to elongated lakes. The free-flowing stretches that survive are often a maze of channels with shallows that the boat has to be dragged across. And we encounter other hazards, from glue-like mud to rain-and-wind storms that collapse our tent a couple of times. These are minor offsets to the pleasures of traveling in summer under mostly cloudless skies across a gorgeous landscape: golden bluffs and green hills, glittering water and shimmering cottonwood groves, grazing cattle and river towns. We also meet a lot of friendly people who offer helping hands. With a few inquiries, we get trailer lifts around the six dams, sometimes for free. Standing at highway bridges with a red gas can, we thumb rides in passing pickup trucks to the nearest gas station. Often the driver offers to take us back to the river, intrigued by our expedition.
Surprisingly, friends and strangers who hear of the venture rarely ask why. Comments range from "cool" to "I wish I were going." A river journey down the midcontinent seems to have wide appeal: as an adventure, a see-America tour, or a Huck Finn-like escape. As an extra dividend, says Bob, "my four sons can be proud of their old man."
On the day in June when we launch our flat-bottomed, aluminum drift boat below Great Falls, the river is running fast from recent rains. The boat--an adaptation for Western rivers of the traditional New England fisherman's dory--carries a 1,000-pound load: camp gear, food, motor, gas, and ourselves. That makes us a heavyweight among the canoes on the Upper Missouri Wild & Scenic River, a 149-mile stretch that Congress protected in 1976 as the longest remaining section of free-flowing Missouri. We pass canoeists floating past the dramatic White Cliffs, described by Lewis as "scenes of visionary enchantment," and massive bluffs called the Missouri Breaks. Wildlife abounds: We see everything from mule deer and coyotes to eagles and pelicans.
Below the Breaks, the canoes disappear, and from there to Sioux City, Iowa, long-distance travel is discouraged by the dams, built by the U.S. Army Corps of Engineers from the 1930s to the 1960s. Boaters on the lakes are mostly sport fishermen who launch their craft at scattered ramps. But in North Dakota, we travel for hours without sighting a boat on Lake Sakakawea's clear green waters or people along its miles of sandy beaches. There's still plenty of solitude on the Missouri.
That's partly because the river's floods and shifting channels, up to now, have kept homebuilders at a wary distance. But upriver from Sioux City, a splurge of homebuilding is creating an affluent suburb, Dakota Dunes, on the banks of the Missouri. There, the Corps has strait-jacketed the river with levees, rip-rap, and rock jetties called wing dikes. Still, the Corps recommends that owners of the new homes, some of them mansions, leave their basements unfinished. "They are building on what was the old river channel," says David C. Wooster, acting chief of the Corps' Missouri River control section in Omaha.
SQUEEZE PLAY. Such prosperity hasn't spread to the Indian reservations that occupy long stretches of the Missouri's banks. At Fort Thompson, on South Dakota's Crow Creek Sioux Reservation, Duane Grey Cloud, a lean fishing and hunting guide, gives us a lift around the Big Bend Dam. Jobs on the reservation are scarce and vulnerable to shifting tribal politics. So Grey Cloud, 42, a Vietnam veteran, has just opened a bait and tackle shop on the highway into town. "I'm trying to do something on my own, so I won't be dependent on the Tribal Council," he says. But on the Standing Rock Sioux Reservation, where Sitting Bull is buried, the Tribal Council is starting to funnel casino profits into other businesses such as a boat ramp and parking for off-road vehicles of customers who arrive at its Prairie Nights casino by boat or snowmobile. "We're using casino dollars to bring in more development" such as a proposed golf course, says Charles W. Murphy, travel chairman of the Standing Rock tribe.
Below Sioux City, the once-sinuous Missouri has been squeezed by the Corps into a straighter navigation channel all the way to St. Louis. It looks like a waste of taxpayers' money: We see fewer than a dozen strings of barges moving on the entire stretch. Still, a tug pushing barges upstream at night is a great show. Camped on a midriver sandbar below Glasgow, Mo., we are jolted awake by the thump of engines and intense lights. We rush out of our tent to see a tug laboring against the current with a half-dozen barges. Lights beamed in all directions illuminate a mile-long swath of the river, while the pilot's roving spotlight picks out navigation markers on the banks. The engines echo for a half hour after this spectacle disappears around a bend.
The Corps has drastically altered the Missouri's ecology. But since it built the dams, it has acquired other, sometimes conflicting, mandates. One is to protect the endangered least tern and the piping plover, federally listed as threatened, by limiting water releases in early summer. In recent years, high water wiped out many nesting areas, mainly bare sandbars on the Missouri and Nebraska's Niobrara River. But this year, the birds are faring better. Near Washburn, N.D., three summer interns with green visor caps, doing a survey of terns and plovers for the Corps, come ashore in a flat-bottomed skiff. "Conditions are great," says team leader Jay D. Hettinger, 22, who is studying park management at South Dakota State University at Brookings. "There are birds everywhere." Sure enough, 400 miles downstream, where the Niobrara dumps its load of silt into the Missouri, least terns dip and skim gracefully as we pass a sandbar that the Corps has posted with "restricted" signs.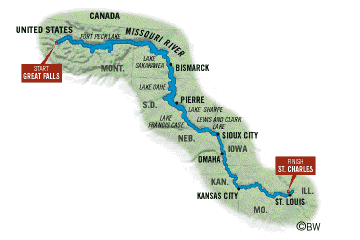 ENDGAME. As the Lewis and Clark bicentennial approaches, there will be more long-distance travel on the Missouri. On Aug. 29, the Discovery Expedition of St. Charles, a nonprofit group, launched two 40-foot replicas of Lewis' and Clark's pirogues, or dugouts, in Yankton, S.D. With crews of 10 to 18, they expect to hit St. Charles, Mo., across the Missouri from St. Louis, on Oct. 13. "From 2003 to 2006, the endgame is to retrace the entire discovery expedition," says spokesman Kevin E. Kipp.
Our trip ends at a ramp in St. Charles. Bob's son Ted, a Boeing Co. engineer, meets us with a trailer. For proof that we have made it, he drives us to St. Louis' riverfront and takes our pictures at the Gateway Arch. Back in New York, an apartment-house neighbor, when told of the trip, asks: "Did it rejuvenate your soul?" Aside from the lifetime bragging rights, yes--surely it must have done us some good.
Before it's here, it's on the Bloomberg Terminal.
LEARN MORE