Alpine May Be Set For A Climb
by
Another target that is attracting short-sellers is Alpine Group (AGI), a holding company in New York. And the shorts seem to be on the mark: So far this year, the stock has dropped 16%, to 15 or so recently, as Alpine's Big Board-traded shares joined the market rout. But one value-hunting hedge-fund investor believes that the shorts are dead wrong. Rick Mastain, a general partner at Twenty-First Century Advisors in Park City, Utah, thinks the stock is way undervalued. He has been buying up shares, betting the price will double in a year or two.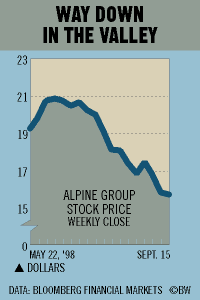 As Mastain sees it, Alpine's breakup value is a good deal more than its current price. Its primary subsidiary is Superior TeleCom (SUT), another Big Board stock, in which Alpine has a 50.1% stake. Superior is a supplier of cables and copper wire to telephone companies. Mastain reckons that its stake in Superior alone is worth $18 a share. The company also owns Premier Refractories International, which Mastain values at $5 a share. Those two, plus $2 a share in cash, add up to $25 a share. The company has seen its profits rise handsomely in recent months, with its net income climbing to $6.2 million, or 36 cents a share, on $289 million in sales in the quarter ended July 31, versus $4.4 million in profits, or 26 cents a share, a year ago. It has a price-earnings ratio of 11, based on estimated 1999 earnings. Not a glamorous business. But those numbers have a certain panache.
Before it's here, it's on the Bloomberg Terminal.
LEARN MORE