U.S.: A Key Prop Under Demand Is In Danger
Will the stock market correction lead to slower job growth?
by
The U.S. stock market's volatility in recent weeks has focused attention on the outlook for economic growth--and rightfully so. Up to now, exceptionally supportive financial conditions, including both rising stock prices and falling long-term interest rates, along with the strongest job market in a generation, have been the power behind domestic demand. Spending by consumers and businesses has swamped the sizable drag coming from the financial meltdown outside the U.S. But now, market weakness threatens that crucial underpinning. And if U.S. demand cools off, the labor markets are sure to feel the chill.
Federal Reserve Chairman Alan Greenspan mentioned these concerns on Sept. 4 at the University of California at Berkeley. Greenspan's speech was devoted almost exclusively to the question: "Is there a new economy?" The gist of his answer: "Let's wait and see." But he did digress briefly to say that greatly increasing stress in the world was unlikely to leave the U.S. unscathed. "As dislocations abroad mount, feeding back on our financial markets, restraint is likely to intensify," he said.
In this context, Greenspan made only one policy-related statement, saying that by the time of the Aug. 18 policy meeting, the risks between higher inflation and a weaker economy "had become balanced." That comment strongly suggests that the Fed rescinded its inter-meeting policy bias toward higher interest rates that had been in place since May, and that it had adopted a neutral stance. He also said that the Fed "will need to consider carefully the potential ramifications of ongoing developments since that meeting."
THE PRESS AND THE STOCK MARKET interpreted that remark as leaving the door open for a cut in interest rates. The Dow Jones industrial average surged 380 points on Sept. 8. Greenspan did not, however, signal that a rate cut was imminent. For that interpretation to be true, the Fed chief would have to have placed a greater risk on a weakening economy than on higher inflation, a statement that would have implied that the Fed had shifted its inter-meeting stance all the way to a bias toward easing. He didn't go that far.
For now, the Fed seems content to continue sitting on the sidelines, especially since the Wall Street correction is essentially doing the Fed's job of keeping growth at a sustainable, noninflationary rate.
That wasn't the case a few months ago. Greenspan also noted in his speech that the stock market's windfall gains had "financed not only higher personal-consumption expenditures but home purchases as well." In fact, he said that it was difficult to explain the recent record level of home sales without reference to earlier stock market gains, and he added that the rise in stock prices also had cut the equity cost of capital, fueling additional capital investment.
Strong domestic demand was why Greenspan and others at the Fed had been so concerned about the inflation potential of tight labor markets. Now, though, continued strength in job growth cannot be taken for granted. The employment-population ratio has edged lower in recent months, suggesting that the economy is less able to absorb incoming workers. And the weakness in manufacturing payrolls has intensified as a result of weaker exports (charts). Absent the market component of spending growth, overall demand, including the service sector, seems likely to slow a notch--and so will payrolls.
IN FACT, JOB GROWTH may have begun to slow in the third quarter. August work rosters increased by 365,000 employees, after rising only 68,000 in July. The General Motors Corp. strike distorted the monthly pattern: Some 150,000 workers in auto and auto-related industries were off the job in July and then returned to work by August. On balance, payroll gains in July and August averaged 217,000 per month, but that was below the 244,000 averaged in the first half. Moreover, all of the August hiring decisions were made before the stock market began to tank.
The hiring slowdown can be traced to one of this year's economic trends: deteriorating manufacturing activity offset by a strong service sector. Factory payrolls rebounded by 95,000 in August, after dropping by 200,000 in July. That pattern, however, masks a worsening trend. Factory-job losses averaged 23,000 per month in May and June, but looking through the strike impact, factories have shed more than 50,000 workers per month since June.
So far, though, service employment shows no signs of slowing down. Excluding government, gains in private-sector service jobs averaged 220,000 per month in July and August, actually faster than the 203,000-a-month average for the first half.
The question is: How long can service-job growth remain strong amid the erosion in manufacturing, on which many service-sector jobs, especially in wholesale and retail trade, depend? Moreover, finance has been a key source of job growth, but Wall Street's expected trading losses could hit hiring. That's why all eyes will be on the September and October job data, as well as weekly initial jobless claims, looking for early evidence that job markets are loosening up.
SEVERAL FED POLICYMAKERS are undoubtedly hoping that some easing in labor-market conditions will stem the acceleration in wages--and any resulting inflation pressures that they bring. But for now, wage gains show no sign of abating. Hourly pay jumped 0.5% in August, after increasing 0.2% in July, although some of that pickup reflected the return of highly paid auto workers. Still, during the past three months, pay has risen 4.2% from the same period a year ago, up from a 3.7% annual clip this time last year.
Just as in job trends, the service sector is powering pay gains (chart). Measured over three-month periods, service wages are growing at a 4.8% clip from a year ago. Meanwhile, factory wage growth has slowed to 2.5%, after hitting 3.5% in early 1997. Factory pay growth is now the slowest in three years.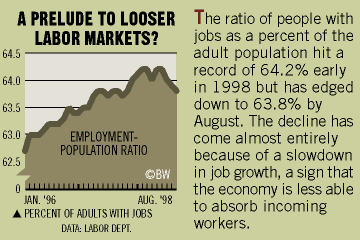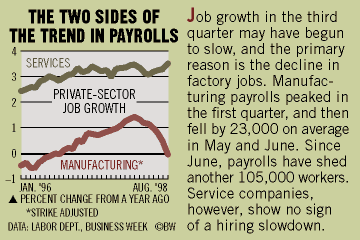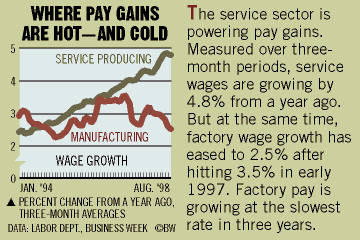 It's not, however, the inflation consequences of accelerating pay raises that bear watching right now. With global turmoil limiting the pricing power of U.S. companies, faster wage growth is more likely to shrink profits. Weaker earnings could hammer stock prices further and depress capital spending, both of which could ultimately lead to layoffs or weaker job growth.
So far, global turmoil is playing into Greenspan's hands. His top concerns for months have been strong demand, an overvalued stock market, and tight labor markets. But now, the stock market looks less frothy, and chances are better that overall demand will slow. To be sure, the Fed stands ready to act should the economy need help. But up to now, the script is unfolding just the way Greenspan would probably like.
Before it's here, it's on the Bloomberg Terminal.
LEARN MORE