Tech To The Rescue?
Info-tech spending has been powering the economy and could continue to do so--if the industry can solve its short-term problems
Paul C. Judge
We're about to learn just how crucial information technology really is to U.S. prosperity. With economic malaise spreading from Asia, Russia, and Latin America, and plunging markets dimming the prospects for the financial-services business, high tech is increasingly critical to the U.S. economy. In coming months, the performance of high-tech companies--everything from chipmakers to operators of Web search engines--could become a barometer for the economy, not just a signal of what's hot in the stock market. So from Silicon Valley to Boston, high-tech execs are anxiously trying to determine how quickly businesses and consumers will continue to snap up computers, wireless phones, networks, and all the other high-tech gear.
A falloff in technology spending would hurt the economy in several ways. Lately, high-tech spending has generated roughly 30% of the growth in U.S. gross domestic product, according to calculations by BUSINESS WEEK. In addition, business investments in new technology are one of the major reasons for strong productivity growth and low inflation. And with lower revenue and earnings, tech companies might fall behind in developing the next breakthroughs to spur further productivity gains.
"VERY DEPRESSING." Can high tech keep chugging away? Some prognosticators are already predicting that it can't and warn of a hit to the overall economy. "It's going to slow U.S. growth," says Genio Staranczak, director of long-term forecasting for WEFA Group Inc. Indeed, after six years of amazing growth, several segments of the high-tech industry are slowing--at least in the near term.
Some companies, such as software giant Computer Associates International Inc. and IBM, are falling short of revenue and profit goals in part because of the Asian crisis. Microsoft Corp. had revenues of $400 million in Japan for the quarter ended in June--down 27% from the previous quarter. "What we see in the Japanese economy, at least in our segment, is very, very depressing," says Greg Maffei, Microsoft's chief financial officer. "It's a huge drag on our business."
Back in the U.S., PC makers are feeling the pinch from plunging prices in the consumer business. You can buy a new PC for as little as $399 today, and that may not be the bottom. So even though unit demand is strong, earnings are weak: After falling by 20% in the first quarter, gross margins for PC makers edged back up by only 8% in the second quarter, according to Deloitte & Touche. And in the more profitable corporate market, the outlook has dimmed. Microsoft's NT 5.0 operating system and Intel Corp.'s powerful Merced computer chip have both been delayed, causing some customers to put off buying.
There are also signs of a cyclical slowdown, as companies scale back capital spending in anticipation of slower growth in the U.S. That hits makers of high-tech gear hard. Says Vladi Catto, chief economist for Texas Instruments Inc.: "We've seen a very sharp reduction in capital spending all over the place." Orders for new information technology equipment in the U.S. grew by only 8.2% for the three months that ended in July, down from an average of 11% for the past two years, according to U.S. Census Bureau data. Communications equipment and electronic components--categories that include the building blocks for big infrastructure projects--are especially hard hit.
One big stimulus for high-tech sales may now have peaked: Between 1994 and this year, spending on new gear and services to head off the Year 2000 problem jumped from 2.1% of corporate revenues to 4.1% in 1998, according to the Gartner Group Inc. That was a huge windfall for technology companies, but the biggest Y2K spending may be past.
The bottom line: The market for information technology in the U.S., totaling $316.6 billion in 1997, will grow at 10.5% this year, compared with 12% in 1997, according to International Data Corp. Because the U.S. market is maturing, IT spending "won't grow at the high rates of the '80s and early '90s," says Matthew M. Toolan, manager of global research for IDC.
That's hardly a disaster. But slower growth and falling prices can only spell more bottom-line trouble: Computer makers, according to analysts polled by First Call Corp., are expected to post a profit drop of 2% this year, while the net income of communications technology makers is forecast to fall 10%.
That, however, is nothing compared with the woes of chipmakers, who compete in a glutted global market. Many analysts predict an uptick in 1999, but First Call's consensus estimates predict a 35% plunge in profits of U.S. chipmakers in 1998.
Industry giant Intel is a clear victim. The company has recently rejiggered its strategy to win back the sub-$1,000 PC market, where rivals such as Advanced Micro Devices Inc. have made big inroads. Such machines account for more and more of the market, but they require cheaper microprocessors that will crimp Intel's earnings. On top of that, Intel is feeling the Asian flu. "The Asia crisis is extending, and it has affected us," says Andy Bryant, Intel's CFO. "Our growth rate is slowing." On average, analysts expect Intel earnings to fall 17% in the third quarter, and Thomas P. Kurlak, an analyst with Merrill Lynch & Co., says the company could wind up reporting a 22% drop in net income for the third quarter, to $1.2 billion, on a 3% decline in sales, to $5.9 billion.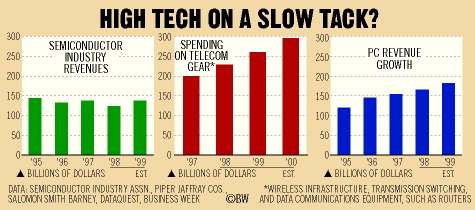 SKITTISH. Makers of semiconductor equipment feel their customers' pain. Intel is scaling back its $5 billion capital-spending plans by as much as 10%. "Many chipmakers worldwide have stopped investing while they reassess their positions," says James C. Morgan, chairman of Applied Materials Inc., the world's No.1 supplier of chipmaking equipment. Complicating that process, he adds, is the volatility in global stock markets. Because semiconductors are the most capital-intensive products around, plunging share prices make chipmakers skittish. Until that changes, Morgan says, the outlook for chip equipment remains bleak.
Despite all this, however, industry executives--and many analysts--remain bullish about long-term growth prospects. In that respect, the overall picture hasn't changed: High tech will continue to be the fastest-growing, most dynamic driver of the economy. The question is whether high-tech companies can work through their own near-term problems quickly enough to save the U.S. from the global malaise.