Solid Comfort At La Z Boy
By
Since the market's plunge, not many stocks are trading anywhere near their highs. One stock that has held up is La-Z-Boy (LZB), widely known for its reclining upholstered chairs. "The reason is nothing more than increasingly positive fundamentals," says Elliott Schlang of Lynch, Jones & Ryan, a Cleveland investment firm.
With yearly earnings growth of about 14%, La-Z-Boy "is a safe haven in an uncertain economy," says Schlang, who notes that sales have increased for 17 consecutive years and that earnings have grown in each of the past seven. And those averse to overseas exposure can relax with La-Z-Boy: 93% of sales are domestic.
With a 35% share in the recliner market, La-Z-Boy boasts better brand-name recognition among consumers than--believe it or not--Sony, Microsoft, or Polo Ralph Lauren, at least according to a study conducted by Household Furniture Network.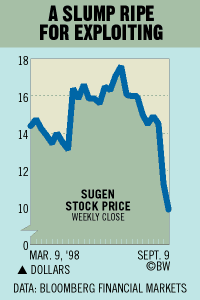 But La-Z-boy has yet to capture a wide following among institutional investors. So the stock trades at a low p-e ratio. Now at 56 a share (equivalent to 18 after a 3-for-1 split takes effect on Sept. 15), the stock is trading at just 15 times estimated 1999 earnings of $1.14 a share, and 14 times 2000 earnings of $1.28. Schlang believes La-Z-Boy is a sleeper: He reckons it will kick up to 30 this year. A strong housing market and buoyant consumer confidence could, he says, produce positive earnings surprises in the next couple of quarters and boost the stock.