Making A Rush For Sugen
By
Sugen (SUGN) is attracting fresh attention: With its stock at 11, down from 21 last October, this biotech company may be ready for new deals with strategic partners that may be eager to increase their stake in the company.
Sugen is striving to produce antiangiogenesis agents, which cut off the flow of blood to a tumor. Research has focused on two fronts: It's seeking the oncogene behind certain cancers and developing compounds to fight it, and it's also trying to produce antiangiogenesis agents. In mid-July, it initiated phase-II trials with its lead product, SU101, for ovarian cancer, complementing trials of the same product for brain and prostate cancer. "The trials have shown some positive surprises," says Peter Hirsch, Sugen Executive Vice-President for drug R&D. By yearend, he says, Sugen will launch trials for a yet-unnamed compound that blocks the formation of blood vessels and simultaneously directly attacks cancerous tumors.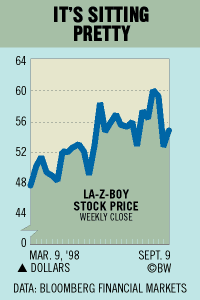 James McCamat, editor of Medical Technology Stock Letter, notes that SU101 is a small molecule that blocks the pathway regulated by one of the main oncogenes in brain, prostate, and ovarian tumors. To help develop anticancer compounds, Sugen has signed a pact with Britain's giant drugmaker Zeneca Group, which has acquired a 20% stake in Sugen, and also with Allergan, ASTA Medical, and Japan's Taiho Pharmaceutical. Except for Taiho, these companies have taken equity stakes in Sugen, and "they are all potential acquirers of Sugen," says Michael Kicera, president of MRK Capital Management, which has accumulated Sugen shares.
He expects Zeneca will buy more Sugen shares this year. It had acquired its stake at higher prices, and Kicera believes Zeneca will take advantage of the stock's decline and add to its position. He expects Taiho to buy shares as well. "The stock will jump on any good news about the trials," says Kicera.