Is Eagle Hardware Set For Splicing?
by
Alan Rifkin, Piper Jaffray's ace picker of retailing stocks, wasn't content merely to keep his buy recommendation on Eagle Hardware & Garden (EAGL): He upgraded his rating in mid-summer to a "strong buy." What's so alluring about this supplier of do-it-yourself home-improvement products?
For one thing, business in Eagle's markets, mainly in the Northwest, has picked up sharply, partly because of a buoyant housing market. And its stock has become "very undervalued," says Rifkin, compared with rivals. Also, Rifkin thinks that, in light of the current consolidation going on in the $150 billion industry, Eagle will end up in the arms of Lowe's, second in size only to Home Depot.
"It's incumbent upon Lowe's to acquire Eagle," says Rifkin, so it can grow faster and move from conventional-size stores to a "chain of superstores on a national scale." Lowe's, with 461 stores in 26 states, mainly in the East, has publicly stated that it wants to reach 600 stores in two years and expand into California, says Rifkin. There's no overlap in the two chains' regions, says the analyst. Eagle plans to open six stores this year and a further 10 in 1999.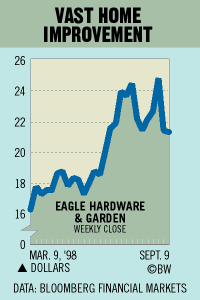 Rifkin figures that Eagle stock, now at 21 a share, is cheap: Eagle's price-earnings ratio of 18.9 compares favorably with 26 for Lowe's and nearly 40 for Home Depot, based on estimated 1999 earnings. In a buyout, Rifkin says Eagle could be worth 40, or $1.1 billion--about the same as its estimated fiscal 1999 revenues. If Lowe's were to buy Eagle for stock, the deal would not dilute Lowe's earnings, says the analyst. Combined, Lowe's and Eagle would have total revenues of $13.5 billion in 1998 and $16.3 billion in 1999. Lowe's spokesman Brian Peace declined to comment on acquisition plans but said the company aims to spend $1.5 billion to build 100 stores in the West in a couple of years. Eagle couldn't be reached for comment.
Before it's here, it's on the Bloomberg Terminal.
LEARN MORE