business
Giant Farms Sprout In The Heartland...As The Forests Keep On Burning
Luis Divino wears a Stetson and speeds his Toyota Vitara along dusty tracks with the ease of a seasoned cowboy cantering his horse. Gunslinger style, he draws his cell phone from his waistband and, steering with one hand, fires out instructions to farmhands. As manager on the Fazenda Nova Mutum ranch, 260 kilometers north of Cuiaba in Brazil's Mato Grosso state, Divino is responsible for 16,000 head of cattle. He also supervises vast soy production, a huge fish-farming complex, hog-rearing, sugarcane, cotton, and the cultivation of a host of other crops. "The climate is healthy, the people around here know how to work well, and we have great technical specialists," he boasts. "The only problems are unstable markets for our produce, and bad roads."
Even those problems may be easing. Divino is part of Brazil's new agribusiness elite, driving economic development in the upper Amazon Basin. The axis of the nation's agriculture, long concentrated in the southeast, is moving north as cheaper and more productive land is brought under the plow. Here, farmers have the advantage of better climatic conditions, with minimal risk of drought and flood. And for the first time, the vast western interior of a country larger than the 48 contiguous U.S. states is being connected by rail, power line, and road to the markets of Sao Paulo and Rio de Janeiro.
"It's like the railroad reaching the West and Midwest in the U.S. 100 years ago," says Sam Pryor of Brazil Rail Partners (BRP), which, with Chase Manhattan, holds a $25 million stake in a multibillion-dollar rail project connecting the heartland to the Atlantic and the southeast. Inaugurated last April, the first 110 km of the railroad is already shipping soy at $20 a ton more cheaply than by truck to the Atlantic port of Santos. By 2001, the railroad will reach Cuiaba and then continue 1,500 km miles northwest to the river port of Porto Velho and to the Amazon port of Santarem.
Soy exporters are also using an improved highway from Cuiaba to Porto Velho to export to European markets. The soy is taken by barge from Porto Velho to the Amazonian metropolis of Manaus and its ocean-going ships. The new route saves 10 days on the 27-day journey via Santos and 28% on freight costs. The Cuiaba-Santarem rail line will cut the journey by a further five days.
Silhouettes of nine silos capable of handling 370,000 tons a year of grains, including one owned by U.S. commodity giant Archer Daniels Midland Co., dominate the fast-growing town of Nova Mutum, 8 km from the farm. A 3,000 hog-per-day, state-of-the-art processing plant opened in May and now supplies frozen cuts of meat and vacuum-packed salami to Sao Paulo and Rio, over 1,600 km away. A second cotton gin started up in June.
Fazenda Mutum is owned by Mutum Agro-Pecuaria, a holding of the Sao Paulo-based Krakauer family, which also has real estate interests. Just outside the ranch gates, Divino proudly shows off a bar and grocery store run by his wife. Its offerings include high-quality black grapes and fruit yogurt developed in partnership with a dairy in Nova Mutum. So in the shadow of giant agribusiness, small ventures are thriving, too.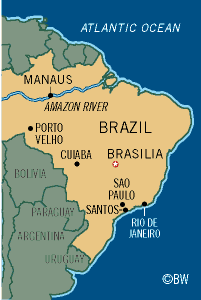 Pushing back the frontier, of course, raises environmental concerns. The recent free-for-all as large farmers and timber and mining companies moved into the virgin forest caused the World Bank and other alarmed multilateral agencies to cut off highway aid. Brazil itself, albeit sluggishly, has gotten around to cancelling tax breaks for new pastures. Officials have been empowered to halt forest destruction, but there's little funding for enforcement. Deliberate burning continues apace, as does the smuggling abroad of hardwoods under the blind eye of local authorities.
Insecticide contamination and soil erosion caused by the burning of forest cover are nowadays more likely to be perpetrated by small farmers focused on short-term subsistence. The big grain spreads are run on strict accounting lines, and soil damage over the long term cuts profit. Since it's unlikely that a moratorium will be imposed on further development of the Brazilian Amazon, it may well be that modern agribusiness--watched closely by environmentalists--offers the path of least destruction.
Before it's here, it's on the Bloomberg Terminal.
LEARN MORE