France: Letting Up On The Accelerator
By
France's Socialist-led government has benefited from the growing economy it inherited last year. It easily met the Maastricht budget-deficit target, joblessness has been falling, and 1998 growth is headed toward 3%, the fastest pace since 1989. Now comes the hard part. The economy is set to slow, perhaps considerably.
The slowdown will make it difficult for the government to deliver on its promises of 350,000 new jobs by 2000 and more outlays for education and health while meeting its 1999 budget-deficit target of 2.3% of gross domestic product, as outlined in the budget blueprint released on Sept. 9. A key proposal includes the elimination of the taxe professionnelle, which has limited the hiring of unskilled workers.
The budget projects 3.1% GDP growth in 1998, slowing to 2.7% in 1999, but private analysts say that figure should be closer to 2.5%. They say the government is underestimating the degree to which economic turmoil in Asia and Russia will offset domestic demand.
Second-quarter real GDP rose 0.7%, slightly faster than the first quarter's 0.6% gain. Further growth, however, will depend critically on domestic demand. Consumer spending, which had been stagnant for three years, led overall growth last quarter, rising a solid 1%. Also, housing is accelerating, buoyed by rising real incomes and low interest rates. Unemployment is down, and confidence is high.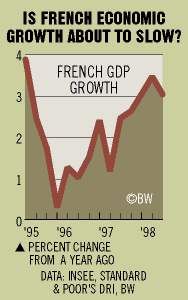 On the other hand, French joblessness, at 11.8%, is exceeded in the 11-country euro area only by Spain and Finland. And with manufacturing output now slowing, grudging declines in the jobless rate are likely to taper off. Factories had put on many temporary and part-time workers, and the temporary jobs added because of the World Cup are now gone.
Exports, which had led the economy for two years, have ground to a halt. They barely rose last quarter and were a net negative in the first half. Few economists believe that strong trade within the euro zone can offset the drag from the rest of the world.