business
Mazda Learns To Like Those Intruders
Ford's takeover was a shock. Now the alliance is key
By
Mazda Motor Corp. lost face back in May, 1996. That's when the hemorrhaging, Hiroshima-based company turned to a gaijin for help: Ford Motor Co. took control by boosting its stake from 25% to 33.4%. Just the thought of foreign control sent shock waves through Japan's No.5 carmaker. Outside the company, commentators referred to the deal as the second atomic bomb dropped on Hiroshima. Customers deserted Mazda's showrooms.
In a turnabout, the alliance with Ford is now seen as crucial to Mazda's pulling out of its skid. While the slowdown in Japan and Southeast Asia has Japan's auto heavies--Toyota, Nissan, Honda, and Mitsubishi--throttling back production, Mazda is more than holding its own. Its sales in Japan are off only 5.8% so far this year, vs. 14.9% for the industry. Facing increasingly harsh competition, Mazda employees from the executive offices to its showrooms are accepting the U.S. auto giant as a necessary ticket to the millennium. "Ford's involvement was essential for Mazda's recovery," admits Kei Kado, managing director of product development.
With guidance from Ford, Mazda has trimmed costs while wheeling out a string of popular new models, including the $11,900 Familia compact station wagon in Japan. At the same time, it's gaining enough ground in North America and Europe to reach breakeven after losing $93 million in those markets last year. Overall, after five years in the red, the company expects to net $215 million on sales of $15.3 billion in the fiscal year ending next March.
"LIKE A GOD." Mazda has pulled the plug on unprofitable lines, such as 660cc minicars. It now slaps its nameplates on minicars produced by Suzuki Motor Corp. Ford executives have reined in Mazda's freewheeling engineers, forcing them to share auto "platforms" and source more components overseas. A company that used to roll out a dizzying array of expensive sporty sedans now produces cars that people want at affordable prices. "We were engineering-driven," says Kado. "Now we treat the customer like a god."
By following Ford's advice to use customer clinics, Mazda took the lead in one of the few growing segments of Japan's hammered auto market: car-based compact sport utilities. Its $8,800 Demio compact SUV is a hit because it gives young families what they asked for--a roomy interior.
Mazda faces a test next month, when competitors roll out 18 new models, including minicars that could lure away potential Demio buyers. Mazda will fight back with new Familias. It will also launch three new minicars, followed by a new recreational vehicle based on its Capella station wagon.
Mazda is hardly home free. In Japan, it holds an estimated 5.5% of a market that's expected to shrink some 10% this year, to 5.6 million vehicles. "It's our objective to take out costs to offset the loss in revenue," says James E. Miller, Mazda's president. This year, Mazda will churn out 1 million vehicles worldwide, vs. 1.4 million at its peak in 1990.
For future growth, Miller has his eye on North America and Europe. Led by a new Protege sedan, Mazda's U.S. sales are up 8% through August, to 177,351 cars. And in Europe, due to the popularity of its $20,737 Capella station wagon and the newly remodeled sports car sold as the $21,537 MX-5, Mazda's sales have swelled by 11% this year. Mazda plans to push up European sales by increasing exports.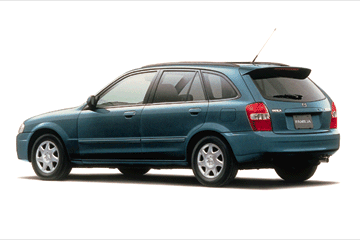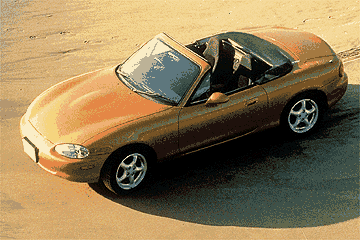 Mazda and Ford also want to get more mileage out of their relationship. Mazda, for example, recently closed its factory in Thailand and will make pickups there in a joint venture with Ford. In 1999, Ford is expected to start building a next-generation SUV based on the Mazda 626.
With Mazda still carrying a hefty debt load of $5.3 billion, staying tight with Ford could be critical. "Customers feel more confident that Mazda will remain because of its relationship with Ford," says Daiju Watanabe, a salesman at a Mazda dealership in Tokyo. Survival, it seems, has turned into a strong selling point in Japan.
Before it's here, it's on the Bloomberg Terminal.
LEARN MORE