Look Out, Supermarkets Wal Mart Is Hungry
Its "experimental" stores already have grocers running scared
Wendy Zellner
When Wal-Mart Stores Inc. recently announced plans for three "experimental" grocery stores in Arkansas, industry executives shuddered. After all, only a decade ago, Wal-Mart said it was merely testing giant "supercenters" that combined food and general merchandise. Today, its supercenters number nearly 500--and after ringing up grocery sales estimated at $12 billion this year, the Bentonville (Ark.) company will rank as the country's eighth-largest grocer.
With that kind of track record, it's no wonder that the new Wal-Mart Neighborhood Markets, to open in October, are drawing plenty of attention. The 40,000-square-foot stores, about the same size as traditional supermarkets, are one more sign of Wal-Mart's determination to dominate this highly fragmented $415 billion business, as it has the discount-store industry.
"TERRIBLY THREATENING." By leveraging its distribution and buying strengths, Wal-Mart is hoping the new markets will be able to beat grocery stores with lower everyday prices while offering more conveniences than its supercenters. That's why few are fooled by the small-scale start: If the test stores meet profit targets, Wal-Mart will likely roll the new format out nationwide. "Any supermarket executive that looks at this latest development should be very concerned," says retail expert Philip St. Georges, managing director at KPMG Peat Marwick. "What it says is, one way or another, we're going to come and get your customer."
Already, Wal-Mart's push into groceries is pressuring giants like Kroger Co. and Safeway Inc. to cut costs and boost service. And the pressures aren't coming just from the supercenters: Add food and other grocery items sold through the Wal-Mart discount and Sam's Clubs units, and retail consultant James M. Degen of J.M. Degen & Co. in Templeton, Calif., estimates that groceries now account for more than $30 billion of Wal-Mart's total $118 billion in sales. Wal-Mart "is totally flanking the grocery industry," warns Gary M. Stibel, principal of New England Consulting Group in Westport, Conn. "It is terribly threatening." He predicts that in 10 years, Wal-Mart and Safeway will be the two largest food retailers in the U.S., leaving such rivals as Kroger and Albertson's Inc. in the dust.
Certainly, the Neighborhood Markets look like an even more direct assault on traditional grocery chains. Wal-Mart executives insist the three stores--plus two on the drawing boards--are only a test. But many analysts already predict the smaller stores will quickly prove a powerful complement to the giant supercenters, which average 182,000 square feet. Stibel thinks the new format alone, if it's rolled out nationally, could grab 5% to 10% of grocery volume in the U.S. within 10 to 12 years.
That's not to suggest that Wal-Mart is tapped out with its supercenters, where about one-third of the space is devoted to groceries. Indeed, Wal-Mart Executive Vice-President Nick White, who oversees the $26.5 billion operation, says that the company will add 120 to 130 supercenters a year in the U.S. "indefinitely." Most will replace smaller discount stores. Potentially, he adds, "every Wal-Mart store could be a supercenter." The retailer now operates about 1,900 conventional discount outlets in the U.S.
But even as it adds new prototypes to its portfolio of supercenters--the latest being a 200,000-square-foot model in Broken Arrow, Okla.--Wal-Mart is trying to bite into a new part of the market with the Neighborhood format. St. Georges notes that only 25% to 30% of grocery shoppers are motivated primarily by low prices, which is Wal-Mart's strong suit in the supercenters. Many other consumers put convenience at the top of their shopping list. With their huge size and reach--sometimes drawing customers from up to 60 miles away--the supercenters don't always hit the mark.
CROWD CONTROL. Consider the shoppers avoiding Wal-Mart's spanking new supercenter in Broken Arrow, a suburb of Tulsa, on a recent August day. Despite mouth-watering piles of fresh produce near the entrance, a display case filled with take-home meals such as calzones and tamales, and lots of grand-opening specials, Kristin Capeheart, 29, and her boyfriend Brian Garrett, 24, are shopping at their usual store--Albertson's, several miles down the road. "We don't like to go there if we don't have to," says Capeheart. "There's too many people."
Moreover, a Reasor's Food Warehouse store on the same street stocks a variety of fish and fancy breads that can't be found at the supercenter. Mary Brawley, 43, notes that four employees of this family-owned chain have offered to help her in the past hour. "Go find someone [to help you] in a superstore," she scoffs.
To lure in recalcitrant shoppers, Wal-Mart's new format is designed to look a lot more like a traditional supermarket. And the good news is that it's a low-risk proposition. By planting the new stores near existing supercenters, the company can use the same sophisticated food-distribution system that supports the big stores. Wal-Mart recently opened in Bedford, Pa., its eighth food-distribution center, with another to be added later this year. These mammoth 800,000-square-foot facilities boost efficiency by enabling Wal-Mart to deliver dry groceries and fresh products from the same location.
That alone should help Wal-Mart put the squeeze on competitors in this traditionally tiny-margin business. And borrowing from the techniques that have allowed it to dominate in discounting, Wal-Mart also has many of its grocery items on "automatic replenishment," with computer systems helping to refill shelves as needed. The company now supplies virtually all of its own groceries, giving it a cost advantage over the many rival grocers that use third-party wholesalers.
As a result, most analysts expect the Neighborhood Markets to compete heavily on price when they open up. But it won't be their only selling point. The system also enables Wal-Mart to ensure fresher products and adequate supplies. "That puts us miles ahead of the bulk of the 35,000 grocery stores we compete with," says White.
It should also provide a juicy payoff. Wal-Mart believes its investment return on the small stores could be as good as it is on the supercenters. Burt P. Flickinger III, managing director of Reach Marketing in Westport, Conn., figures the supercenters achieve a high 25% return on investment, compared with 20% to 22% for grocery chains and about 22% for conventional discount stores.
FEAR AND LOATHING. Competitors, of course, are hardly waving the white flag. Noting that most major supermarket chains no longer open stores as small as the new Neighborhood Markets, one grocery industry rival points out that there's a reason why the median-size new grocery store is now about 52,400 square feet. Wal-Mart "cannot get the assortment that's necessary in the store," he says. White of Wal-Mart says the retailer hasn't yet decided how many products the new stores will carry, but that it will include fresh foods, health and beauty aids, and other traditional grocery categories.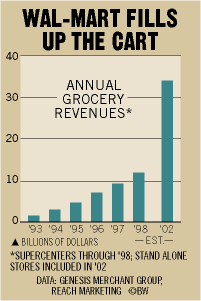 Still, many in the industry aren't taking any chances. Wal-Mart's grocery expansion is one reason behind the flood of recent industry mergers, such as the marriage of Albertson's and American Stores or Safeway and Vons. These mergers are supposed to slash distribution and administrative costs while beefing up the combined chain's marketing and buying clout. That could pit Wal-Mart against much stronger grocery competition. The likely losers? The smaller chains and independent stores, which simply won't be able to spread their costs over enough volume to compete with the giants. "Most of the regionals will go away," warns consultant Stibel.
Already, those pressures are starting to play out. R. Randall Onstead, CEO of 116-store Randalls Food Markets Inc. in Texas, admits he's feeling heat from six Wal-Mart supercenters in his territory. And the new Neighborhood Market concept is clearly a threat. "Whatever they do, they've proven to me they can do it right," he says. These days, no one's underestimating the new grocery giant.
Before it's here, it's on the Bloomberg Terminal.
LEARN MORE