business
Is This Any Way To Run A Tennis Tournament?
At 6 p.m. sharp, in the middle of a tight tennis match in Ojai, Calif., a carillon in the nearby post office bell tower boomsout a lilting rendition of When You're Smiling. It's followed by Tie a Yellow Ribbon 'Round the Old Oak Tree. Startled players for the University of California at Los Angeles and for Stanford University smile before continuing their match. (It's won by Stanford, the eventual Pacific-10 conference champion.)
"I thought it might have been a marriage," says UCLA's Jean-Noel Grinda, from Nice, France, one of the players serenaded on court. "Surreal," remarks an amusedyoung woman in the bleachers. But it's really just an example Of the quirkiness of the Ojai Valley, where the past is storied and tradition held sacred. Chimes play two songs at noon, 3 p.m., and 6 p.m. daily, no matter what's going on in town.
Located 85 miles northwest of Los Angeles, the Ojai (pronounced Oh-hi) Valley was the locale for the enchanted paradise of Shangri-La in Frank Capra's 1937 Lost Horizon, starring Ronald Colman. Ojai has been a haven for the film industry since the 1920s, and it's also known for its citrus and avocados. But among tennis buffs, Ojai is famed for the Ojai Valley Tennis Tournament, which has been held every year since 1896, except during World War II and in 1924 because of an outbreak of hoof-and-mouth disease.
TEA TIME. The oldest and largest amateur tournament in the U.S., the Ojai, as it's called, is the sport's model for volunteerism. This year, 587 volunteers, from a valley population of 28,000, help with chores such as cooking barbecue, picking up trash, and tracking matches by computer, one concession to modernity.
Ojaians still open their homes to junior players during the matches, as they have done for years. A quarter of the 142 tennis courts are on loan from private residences in the valley, as well as nearby Ventura, Oxnard, and Camarillo. Volunteers deliver lunch to umpires, set up message boards, squire the press around, and post scores on cork boards at headquarters and on a Web site. In the morning, they offer free orange juice, fresh-squeezed from locally grown Valencias, atLibbey Park, the tournament's headquarters with eight courts and site of the finals. At 2:30 in the afternoon, it is announced that "tea is now being served in the tea tent." Volunteers pour from silver service into china cups and serve cookies on silver trays, also without charge. The tradition dates to 1904.
Players love the tournament. "Ojai is a little, quaint, quiet, laid-back town, and it's cool because the whole town gets into it," says Celena McCoury, a player and a freshman at Arizona State University. "It's sort of a Wimbledon West, with tea and cookies instead of strawberrIes and cream," adds Rick Leach, one of the top professional doubles players in the world. He competed at Ojai as both a junior player and as a college student in the mid-1980s. "The atmosphere is special, and it's a big part of tennis history. I won't be surprised if it goes on for another 100 years."
Neither will folks in Ojai. "More than any other single factor, community spirit is the key to our success," says Alan Rains, president of the Ojai Valley Tennis Club and chairman of the Ojai Valley Bank as well as the Ojai Community Hospital.
Founded by William Thacher, a Yale University graduate and national collegiate doubles champion in 1887, the Ojai actually is eight separate tennis tournaments held throughout the valley over a four-day weekend, with trophies awarded in 38 different competitions.
This year, a record field of 1,767 players accompanied by 346 coaches and hundreds of videocam-toting parents and friends descended on the valley to compete in the Pac-10, the centerpiece of the Ojai, and in other tournaments ranging from the juniors to an open for all age groups. One open is for community colleges, another an invitational for schools that offer no athletic scholarships. "The logistics of the thing are mind-numbing," says Jim Hillman, director of junior tennis at the Southern California Tennis Assn. "There's no other tournament like it with as many levels of play going on at one time." And no other tournament uses volunteers as efficiently.
Planning for the spring event begins in earnest eight months before the tournament, with the formation of 12 committees run by 22 chairs, all volunteers, who are responsible for everything from providing towels for players to renting and locating portable toilets. Wes Kent, a retired building contractor who has lived in Ojai for 22 years and led many community projects, says: "There are 500 volunteers I can call on any time."
"It's like a professional tournament, the way it's organized," says Regina Csibi, a player and a junior at California State University at Bakersfield. "It's fun to watch and fun to play. It's like everything's about tennis here."
Rains estimates that the volunteers, most of whom don't even play tennis, log some 11,280 hours in the year-round effort. At the minimum wage, that totals $67,680, or approximately the same as the tournament's $69,200 budget. One of these volunteers is Jack Spracklin, whose "strings and gates" assignment includes measuring the height of tennis nets and working at the entrance gates. "I like being a member of the team," says Spracklin, an engineer who retired from General Electric Co. in Philadelphia. "It's a lovely thing to do."
For some volunteers, the reward is spotting the next Jimmy Connors or Billie Jean King, both of whom cut their teeth on Ojai's courts. Other Ojai players include Arthur Ashe, Helen Wills Moody, Tracy Austin, Bill Tilden, Pancho Gonzales, and Lindsay Davenport. More than 25 Ojai finalists have gone on to win titles at Wimbledon. "No other amateur tournament has produced as many world-class champions as the Ojai," says Robert Shafer, a Wilson Sporting Goods Co. sales executive who runs Ojai's community college tournament.
Participation isn't entirely altruistic, however. After agriculture, tourism is the most important business for the valley's 32,000 residents, and a 10% "bed tax" is levied on revenue collected from every room rented. The tax alone accounts for more than 25% of the city of Ojai's annual budget of $3.8 million. The tennis tournament sells out every room. The plush Ojai Valley Inn and Spa alone pays $6,000 in bed tax in three days during tennis weekend, almost as much as the $7,600 operating profit from the entire tournament.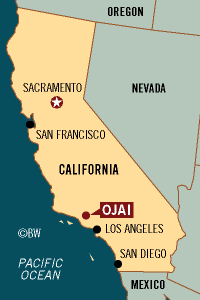 LEXUS OJAI? Still, nobody wants the Ojai to reek of commercialism. Admission is only $5 weekdays and $8 on weekends, and merchandising is minimal, mainly T-shirt sales and souvenir programs. A few modest signs posted on backstops advertise mostly local businesses. Lexus, the tournament's first major sponsor, has a sign only slightly larger than that of a local tennis camp. But some of Ojai's old guard resent even this modest concession to commerce, and Rains vows there never will be a "Lexus Ojai" or other corporate endorser. "We don't want to lose sight of the original goal of promoting amateur tennis and showcasing future stars, nor do we want to forfeit the tournament's charm," Rains says. "We will continue to run the tournament with class and maintain its tradition and culture."
In an increasingly commercial sports world, that may not be easy. But backers say the Ojai has as good a chance as any sporting event of keeping the hucksters at bay. After all, they point out, this is Shangri-La.
Before it's here, it's on the Bloomberg Terminal.
LEARN MORE