business
Is Something Fishy At Gk Intelligent?
The software maker has zero products-but sky-high salaries
Gary Mcwilliams
Even as recently as Aug. 3, Compaq Computer co-founder Joseph "Rod" Canion couldn't say enough good things about GK Intelligent Systems Inc., the Houston software developer he joined as chairman in April. Canion had purchased 12% of the company and quickly began lining up a team of top-notch managers. The goal: create Web-based training systems with "artificial intelligence" that adapt training to the way individuals learn. "This is change-the-world stuff," he told BUSINESS WEEK back then.
Maybe not. Canion abruptly fled GK Intelligent on Aug. 12, leaving behind unexercised options then valued at $10 million and a trail of unanswered questions. The six execs Canion handpicked to manage the growth he had predicted also bolted. What happened? BUSINESS WEEK has learned Canion's resignation came shortly after J. David Cabello, who joined the firm as general counsel on July 29, raised questions about whether all of GK's stock sales complied with Securities & Exchange Commission regulations governing such sales. A few days later, Cabello also left the company. And on Sept. 1, GK disclosed it had hired an outside law firm to investigate "possible securities law violations" and delayed release of its financial statement for the fiscal year ended May 31. GK Chief Executive Gary F. Kimmons declined to answer written questions from BUSINESS WEEK about GK.
A BUSINESS WEEK review of public documents paints a picture of a company that may have spent more time issuing and selling stock and enriching its executives than it did developing new technology or even doing research and development. Opening its doors four years ago, GK made great promises of developing new technology for individually customized training systems. But it shifted gears so often it never finished any. First, GK started out to build a training system for the energy industry but abandoned that project after a dispute over payment with its partner, AT&T Global Information Systems, now NCR Corp. NCR Director of Intelligent Systems Bob Simpson says the payment dispute "was one of the problems" that led NCR to end its involvement.
HEFTY COMPENSATION. Next, GK planned a training system to teach IBM programmers. That, too, was abandoned after IBM withdrew from the project, says GK Vice-President Rodney L. Norville. IBM says it can find no evidence that such a deal existed. And in February, GK formally announced an Internet training program for businesses and consumers. But release of that program is being delayed, GK now says.
What was GK doing? Through much of that time, the company was selling millions of dollars in stock. In the fiscal year ended May 31, 1996, sales of stock or warrants for shares raised $904,000. The following fiscal year, GK raked in $1.8 million. In two separate sales since Canion joined this year, the company raised $6.6 million. In total, GK has sold about 21 million shares of stock, according to SEC documents, raising roughly $13.4 million. In May, as the stock approached a record price of 7 7/8, the company filed a registration statement seeking to issue 250 million shares. This would increase the number of outstanding shares tenfold. In the days since Canion's departure the stock has plunged.
At least for the past two years, nearly as much money as was raised from stock sales was paid out in hefty compensation to the CEO and other top executives, according to government filings. In the fiscal years ended May, 1996, and May, 1997, $2.9 million was raised in stock sales and $2.8 million was paid to Kimmons, former vice-chairman Joseph D. Ben-Dak, and others. During those same two years, the company's annual reports say spending on R&D never reached $60,000.
CLOSE TIES. Some of GK's shares ended up in the hands of Graystone Financial Services Inc., a company controlled by Thomas V. Ackerly, a New Jersey resident who in 1990 was fined $1.3 million, censured, and barred from associating with the National Association of Securities Dealers for manipulating the shares of another company. Since 1997, Graystone has sold 200,000 shares of GK, according to SEC filings. In December, Graystone changed its name and moved to offices less than a mile from GK, according to an SEC filing.
But even without the physical closeness, Graystone has ties to GK through the tech company's former Vice-Chairman Ben-Dak, who--according to SEC filings--was simultaneously a director of Graystone and of GK. Ben-Dak disputes these filings. The 56-year-old Israeli citizen, who describes himself as an expert in international technology transfer, admits knowing and advising Ackerly but insists he never was a director of Graystone. "I've never participated in any board meetings," he says. "I've never signed anything [accepting a seat]." Ackerly could not be reached for comment. Phone numbers listed on SEC filings for Graystone and successor GS Financial Services Inc. do not reach the company.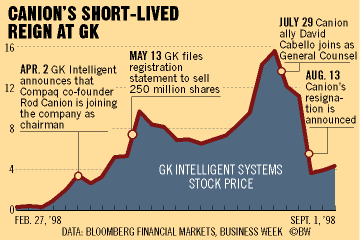 Was Canion bothered by GK's past and present? He declined repeated requests for interviews. But it was clear that he was not happy with at least some of what he saw when he first arrived. Both he and GK director Jerry Allen, who joined in April, insisted on buying out Ben-Dak's shares before making separate investments, says Allen. "We did see a need to get him out," he says. "We wanted to know what he had done for the company. In our view, it was not substantial." But certainly, given his hasty retreat, Canion probably wishes now that he had asked more questions.
Before it's here, it's on the Bloomberg Terminal.
LEARN MORE