business
Despite Another Plunge On Gold...A Mining Town Keeps The Faith
When the world gold price hit an 18-year low of $276.75 an ounce on Jan. 13, Western Australia's gold fields felt the tremors more than most. Australia is the world's third-largest producer of gold, which is its second-most lucrative export, after coal. Western Australia, especially the region centered on the town of Kalgoorlie, produces 75% of the nation's gold. Any dip in the price hits hard.
Folks in Kalgoorlie, 600 kilometers northeast of Perth in the dusty outback, have experienced hard times before. Ever since an Irishman named Paddy Hannan, wheeling a handcart through the red-dirt scrub land, discovered gold in 1893, Kalgoorlie has seen booms and busts. Once, its environs boasted 93 saloons, three breweries, several newspapers, and an embarrassment of bordellos. Traces of the original frontier town include gracious 19th century buildings and enormously wide streets--expansive enough for a camel train or a cumbersome team of bullocks and their wagon to turn around in. And there's still a street of brothels, to say nothing of a crude arena outside of town that thrives as a rogue casino during the town's annual horse-racing meeting and various "flash bars" where barmaids bare their breasts to patrons who toss them an A$2 coin.
Alas, the prosperity of past days is harder to find than virtue. Victims of the current gold slump include Resolute Ltd., which has mothballed three of its operations, and Sons of Gwalia Ltd., which has closed several mines, as has Central Norseman Gold Corp. to the south. A few service businesses have also folded up, unable to wait out the downswing in the cycle.
Along Hannan Street, the main drag, business is down, and the mood is, too. Gold dealer Brent Kennedy, whose business has been quiet for months, says that "some days you could fire a gun down the street and not hit anyone."
In the first significant cut in eight years, spending has been slashed on exploration, indicating Australia will reduce output. The nation's peak commodity forecaster, the Australian Bureau of Agricultural & Resource Economics, expects the amount of gold mined will drop 3% from the year ended June 30. "What we're forecasting is flat gold prices," says Executive Director Brian Fisher.
Ironically, the price slump was sparked by the Reserve Bank of Australia's decision in July, 1997, to sell off 167 tons of bullion reserves. Argentina and Belgium joined Australia in switching from gold to such higher-yielding assets as U.S. Treasuries, a move that dropped gold prices by 20% last year.
Legal considerations are also hurting the sector. In July, Australia's Senate passed special legislation designed to resolve myriad land-title disputes involving the rights of Aborigines and mining leases. However, companion legislation now needs to be drafted and passed by Australia's six states, a process that analysts expect will take years.
The decline in Australia's dollar is softening the blow. An ounce of gold may now fetch only $290 or so, but that converts to A$480--a better return for exporters than that of early 1997. The Aussie dollar has shed 22 cents against the greenback in 18 months, mainly as a result of Australia's close trade ties with faltering Asian economies. This currency break has allowed several mining and exploration companies to hang in and wait for the gold price to rise and for business to jump.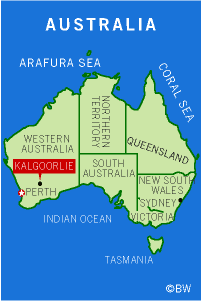 That, at least, is how the optimistic folk of Kalgoorlie look at it. Goldfields-Esperance Development Commission chief Kath Finlayson says that Kalgoorlie has seen enough bad times to know that good times always return. And Trevor Beale, a longtime resident, believes that the rebound will be sooner rather than later. "This town flows with the gold price, and gold will rise again," Beale says.
Kalgoorlie's airport, the second-busiest in Western Australia, is about to undergo a $1.8 million expansion, and officials are looking at introducing a high-speed train service to Perth. It is a far cry from the days of bullock drays and handcarts--except for that rock-hard confidence in gold.
Before it's here, it's on the Bloomberg Terminal.
LEARN MORE