Canada: It's Been A Long, Cold Summer
Joseph Weber
After watching the Canadian dollar slide by over 11% in the past year--and 6.8% since June 1--the Bank of Canada finally moved. It hiked its benchmark bank rate from 5% to 6% on Aug. 27, when the loonie hit a historic low of 63.59 cents U.S. The move triggered a modest rebound to above 64 cents.
But defending the loonie will take a toll on Canada's already-sputtering economy. On Aug. 31, the government reported that real gross domestic product in the second quarter grew at an annual rate of 1.8%, half the 3.4% pace of the opening quarter. And Sherry Cooper, chief economist for brokerage Nesbitt Burns, has lowered her forecast to show real GDP climbing by less than 3% this year, down from 1997's booming 3.8% gain.
The slowdown will halt progress on unemployment. While the jobless rate is expected to dip to an eight-year low of 8% by yearend, from 8.4% now, the rate is then expected to average 8.2% next year. Rising unemployment and higher borrowing costs may cool activist sentiment among such groups as teachers, doctors, construction, and paper-mill workers who have staged strikes over the past year.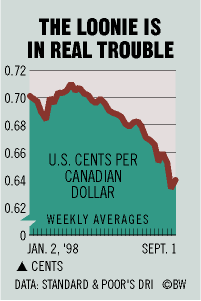 While scattered higher prices for food and other goods imported from the U.S. are appearing, slower growth generally will keep inflation in check. Consumer prices may rise as little as 1.1% this year and 1.4% in 1999, down from a 1.6% increase in 1997. Despite the flat prices, however, consumer confidence is sliding, and personal income growth has slowed.
Still more troubling, Canada is vulnerable to the global slump in commodity prices because 10% or so of its economy remains dependent on natural resources such as minerals and timber. Moreover, renewed prospects for a secession vote in Quebec cast another shadow on the economy. If such clouds depress the loonie anew, the rate hike by the BOC may not be its last. One thing is sure, though: Shoring up the Canadian dollar is already proving costly and may grow more so.